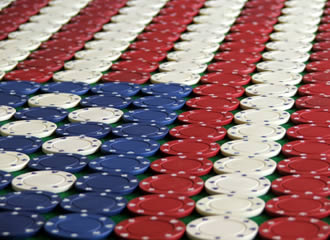 You know it's been a big week for online tournaments when I don't even have space to discuss the big weekly tournaments like the $10k Guarantee at US.888Poker.com, but with WSOP.com's massive Online Championships running this week there is just too much to get to.
Basically this past week's New Jersey tournaments can be boiled down to main themes. First, there were some massive overlays, and secondly, despite the NJ market being just two months old, there were a number of familiar names making big scores.
Below you'll find all of the highlights from the week's biggest tournaments in NJ.
Borgata/PartyPoker Sunday $50K Guaranteed
The Details:
$200 buy-in ($185+$15)
266 entries
Prize-Pool = $50,000 ($790 overlay)
After dipping down to 257 players last week the $50k Guarantee at NJ.PartyPoker.com saw an uptick in attendance; an uptick that fell just four players shy of hitting the magical 271 player mark needed to reach the $50k guarantee.
This may be the biggest weekly tournament in US online poker, but a serious problem has started to plague the tournament over the past few weeks, and that problem is the length of time it takes for the tournament to play out.
With players needing to get up and go to work on Monday, the tournament's late finishes may be turning off a lot of would be participants, as the tournaments have been coming to an end in the 4 AM hour. Slow structures are great, but there is definitely such a thing as too slow. partypoker either needs to speed up the tournament or start it a few hours earlier.
It's also leading to a lot of final table deals, as players just want the tournament to end, as was the case this week when the final two players cut a deal after a 54 hand heads-up battle that saw each pocket nearly $7k.
Here is how the final table participants made out:
JayDaddy – $6,941*
BroekArtis t – $6,808*
joeydynamite – $3,900
propagandhi – $3,225
AnthonyMason – $2,600
niko16 – $2,125
ArtVandelay – $1,700
PrisonMike – $1,275
T1mB3_B33F – $880
*denotes two-way deal
No word on whether the 5th place finisher is the Anthony Mason who was a rebounding machine for the Knicks in the 1990's, or just some nostalgic Knicks fan who chose Mason over John Starks or Charles Oakley.
You can visit the official Party Poker NJ blog for a complete recap of the final table action from the Sunday $50k Guaranteed.
WSOP.com $25k Guarantee
The Details:
$215 buy-in ($200 + $15)
122 entries
Prize-Pool = $25,000 ($600 overlay)
After a great turnout last week (with over 140 entrants) the WSOP.com $25k Guaranteed took a step back this week, although the tournament only fell three players shy of reaching its guarantee.
Here are the final table payouts:
turfwar – $7,000
AuntWeesh – $4,050
nochops – $2,325
fanofdapoker – $1,825
BubbaFattie – $1,575
PureGenius – $1,325
MrRamey – $1,050
meatball20 – $700
brownmagic – $525
WSOP.com $50,000 Guaranteed Online Championships #6
The Details:
$200+$15
207 entries
Prize-Pool = $50,000 ($8,600 overlay)
WSOP.com learned the hard way this weekend just how difficult it is to run a $50k guaranteed tournament in the New Jersey market, as their $50k guarantee tournament (part of their Online Championships tournament series) came up well short, offering up an $8,600 overlay to the players.
In the end it was a player by the name of "LockDownPokr" who walked away as the biggest winner, but the biggest story of the tournament was a familiar name in the New Jersey online tournament MikeyCasino making yet another big score –you may recall that Mike "MikeyCasino" Azzarro won the first two partypoker $50k guarantee tournaments.
Here is how the final table played out:
LockDownPokr – $13,250
finessingyou – $7,750
phatdaddy – $4,425
MikeyCasino – $3,400
MikeG5 – $2,900
dapunisher1 – $2,400
magneto23 – $1,800
Et_Tu_Brute – $1,218
Garbo53 – $850
WSOP.com $70,000 Guaranteed Online Championships #7
The Details:
$100+$9
523 entries
Prize-Pool = $70,000 ($17,700 overlay)
Players were treated to huge overlay in Event #7 of the WSOP.com Online Championships, as over $17,000 was added to the prize-pool.
Here is how the final table fared:
flawlessbink – $16,800
xtermine – $8,890
Kilgore92 – $5,810
DocHoliday44 – $4,410
mywsop – $3,710
pocketkings – $3,010
Hiehatchi – $2,240
BigMikey – $1,470
weakpassive – $980
WSOP.com Online Championships Main Event
The Details:
$500+$30
328 entries
Prize-Pool = $250,000 ($86,000 overlay)
If you thought the previous Online Championships had big overlays than you were probably picking your jaw up off the floor when the final tallies for the Main Event came in, with roughly 1/3 of the $250k prize-pool an overlay!
Remember back about two weeks, when we told you about SizzlinBeta/SizzlinBetts incredible Sunday runs? Well, that man was back at it again, this time winning the biggest prize in the short history of New Jersey online poker, a massive $63,750 score in the WSOP.com Online Championships Main Event.
Along with "MikeyCasino," "SizzlinBetta/SizzlinBetts" has proven to be a force to be reckoned with in New Jersey.
Here is a look at the final table payouts from the tournament:
sizzlinbetts – $63,750
jtxo5 – $36,250
Pupperpants – $21,500
hulksmash – $16,500
bSeck83 – $14,000
flushoff11 – $11,500
Deuxexmachin – $8,750
rules316 – $5,750
KShekels – $4,000
It's hard to say if the WSOP.com Online Championships was a success or not, as the site handed out a lot of money in overlays, as well as the two $250k freerolls (one of which is still yet to be played) but WSOP.com did see a significant spike in traffic during the series, closing the gap with NJ frontrunner partypoker; the question now becomes if they can hang on to those players?
Ultimate Poker Sunday Major $20k Guaranteed
The Details:
$100 buy-in ($91+$9)
102 entries
Prize-Pool = $20,000 ($10,718 overlay)
Here is a look at how the final table played out:
iRule – $5,830
tomspa – $3,920
BiggDaddy – $2,774
Super1 – $1,819
Table30seat8 – $1,437
acesfulljr – $1,055
Silkworms – $673
Nurse – $482
Chembro55 – $291