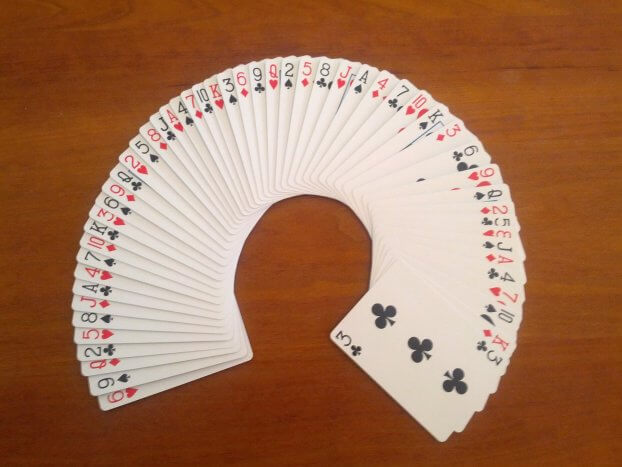 Photo by Sy Lindsley / CC BY 3.0
We all use the word poker regularly and think we know what it means. But the truth is there is no such thing as poker, at least no one single thing. Saying you play poker is like saying you keep a pet. It could mean anything from a dog or a cat to a snake or a spider. There are so many different variations of the game, and so many local houses twist on those variations, that the word poker is almost meaningless.
Types of Poker Games
The first split comes with the basic method of play. The term poker covers three main styles of how the cards are dealt and who can use them. In draw poker, you are dealt five cards face down and can swap out cards to improve your hand. In stud poker, you are dealt cards with some faceup and some face down. And finally, in community card poker, you can combine the cards you are dealt with faceup cards that can be shared by all players.
All of the most popular poker games are variants of these three methods of play, with the five-card draw, five-card stud and Texas Hold 'em the favorites in each category.
House Rules and Wild Cards
Of course, choosing the game is only the start, and many players, especially casual players getting together with their friends on a Friday night, will usually add some spice to the game by mixing in a few house rules of their choosing. It's a reasonable move when you consider the shot of getting a decent poker hand are fairly slim under normal circumstances. The odds of being dealt a royal flush are only 1 in 649,740, so you'd have to play 20 hands every day for almost 90 years to be dealt one.
Mixing in wild cards, such as one-eyed jacks or a low numeral like twos or threes, make the odds of getting a decent hand much better as well as the game more entertaining. Alternatively, you can create a royal deck out of two packs of cards, using only the cards from 8 to ace from each pack. If decent hands still seem hard to come by, you can always switch to a low-ball game where the worst hand wins or allow players to buy another replacement card by adding to the pot.
Online Action
These days, millions of players play online rather than around the green baize table, with many games offering massive pots and tournament guarantees that reach into the millions of pounds. It's great for the serious poker heads while the more casual card players can still enjoy a game for pocket money stakes or even for free on most sites.
Naturally, the main online poker sites feature all the major variants of the game, but some are now starting to offer fun twists too like the Friday night games you share with your mates.
For example, PokerStars' Power Up feature, available on their app, allows you to switch cards you don't like, either hole or community cards, as well as taking a peek at some of your opponents' and even seeing the next one in the deck. It's a long way from a championship game of poker, but it's lots of fun and gives you an insight into how you would react if you ever got a decent hand in a serious game.
Unfold Hold 'em
The newest fun variation in online poker, in the form of Unfold Hold 'em, also comes from PokerStars. The goal of the game is to avoid that frustrating situation where you fold what you think is a poor pair of hole cards, only to see that the flop would have brought you right back into the game. With Unfold Hold 'em, players can pay to get back into the game, contesting the unfold pot with anyone else who has folded. The rest of the game continues as normal while you watch, and then, the unfold pot is awarded to the highest unfolded hand. The rest of the game continues while you watch, and the unfold pot goes to the highest unfolded hand.
Photo by Takkk / CC BY-SA 3.0 Poker is an old game that is consistently renewing itself.
Innovations like this are one of the most exciting things about poker. The game may have been around for at least 190 years, but it is consistently developing and changing to hold our interest while still keeping hold of the basics that are familiar to everyone who plays. Who knows where it will go next, but one thing is for sure: poker will never stand still.