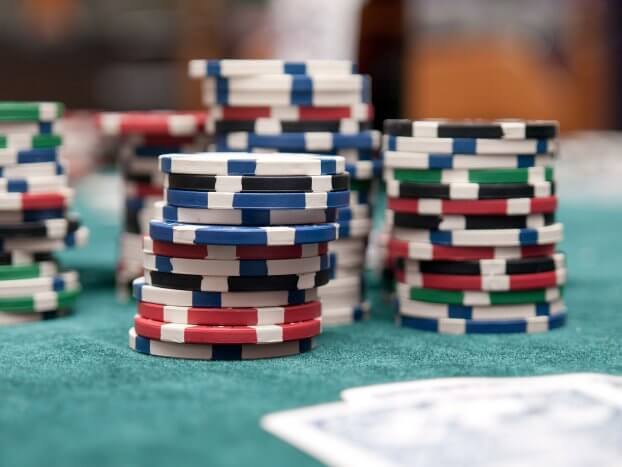 Poker, the game where nerve and the ability to bluff your opponents is absolutely key. Get this right and you could be cashing in your chips at the expense of others, while get it wrong and you could be seeing your hard-earned money being pocketed by someone else across the table.
You would think that the very best at this game must be cold-blooded due to the steely show of brinkmanship that they display. When the tension gets ratcheted up to its highest notches, it is when you see their talents come to the forefront and prove why they get the riches they deserve.
There have been some jaw dropping displays of nerve holding when it really matters with some incredibly big hands not only have being played but more importantly won, here are a pick of some of the biggest in the history of the game.
THE POKER REVOLUTION WILL BE TELEVISED
The best place to start is one where one of the biggest pots to have ever been won on Television took place, it started as a three-handed battle between Tom Dwan, Phil Ivey and Patrik Antonius in Full Tilt Million Dollar Cash Game.
With Antonius quickly not becoming a factor in this clash it was left to Dwan and Ivey to duke it out, with the pot quickly rising to $232,600 things started to heat up in front of a television audience that was anticipating the next twist or turn.
Ivey smelt blood at this point and decided to go all in, Dwan called felt confident that he could win big and decided to call it. His confidence would be justified as a dejected Ivey could only look at the hand that his rival was dealt. A hand that won him a cool $1.1m for his efforts.
However, this figure was recently stumped in Montenegro when a pot of $2.1m was up of grabs and in turn became the highest ever pot to be played for on Television. Again, the three men mentioned above were part of the game, but none of them would play a part in how it ended.
Many of the top poker games are exclusively for poker VIPs, many who spend a lot of time playing in land based casinos and Online VIP Casinos. This particular game had €1m buy in. As always though in games of this nature, high stakes will equal high reward for the winner.
However, it was not any of three men mentioned above that scooped the huge pot. The final battle was down to the lesser known but still well-respected duo of Jason Koon and Kane Kalas, with the latter going on to make history and swell his bank balance to the tune of $2.1m.
ONLINE RICHES
If Patrik Antonius could only watch as history was made in front of him, then at least he can take solace in making history of his own. However, this time it was an online rather than a televisual platform that lay witness to a big win.
In November 2009, Antonius squared off against Viktor Blom for the largest pot in Online Poker history. After the duel started out from rather modest beginnings it soon saw the stakes raised as both players could sense a big win.
With Blom placing a $435,000 bet on the onus was on Antonius to put his money where his mouth is. He duly responded by an eye-watering $870,000 raise and with Blom retaliating in kind by putting the rest of his chips in it meant the stage was set.
The question was whose hand would come out on top? Remember with this being online you're not necessarily having to worry about perfecting your best poker face, it all boils down to how much you back yourself against your digital rival.
The final hand saw Antonius come out on top thanks to his set of cards which were Ace of Hearts, King of Hearts, King of Spades and 3 of Spades, this in turn got the better of Blom's 9 of Spades, 8 of Hearts, 7 of Diamonds and 6 of Diamonds. Winning the flying Finn, a cool $1,356,946 prize pot.
A LEGEND IS BORN
Of course, Poker has not just been the pursuit of players in the internet age, its history is one that is steeped with classic players and the stories that they have made over the span of their illustrious careers.
One of those is Doyle "Texas Dolly" Brunson. His legend is arguably best remembered for the hand he won back in 1976. The World Series Of Poker was still a burgeoning tournament at this point and had only been in existence for seven years.
However, this was the year in which it's standing in the game was to be changed forever. In the heads-up main event he was pitted against Jesse Alto. The battle lines were drawn when Brunson called a raise after a ten-deuce of spades while Alto lay in possession of an unsuited ace-jack.
After an ace-jack ten flop, Alto's confidence was high. So much so that he decided to bet the size of the prize pot, the onus was on Brunson to retaliate and he did so by going all in, although in doing so he was most definitely the underdog.
His hopes were slightly improved after a deuce on the turn, but the balance of probabilities still lied with the man that was sitting across the table from him. However, in a twist of fate, Brunson delivered a ten on the river which gave him not only a full house, but also the World Series Of Poker title for 1976 and $220,000 in prize money.
Not only that though, Brunson's legend in the game had only just begun. A year later he returned to defend his crown as champion of World Series Of Poker and he did exactly that by beating Bones Berland in the final hand of the tournament.
Consecutive wins in the competition meant was not only the first man to achieve this feat. In addition to this he had now won $560,000 in these two tournaments alone, something that would not only swell his personal coffers, but also making him one the all-time Poker greats.