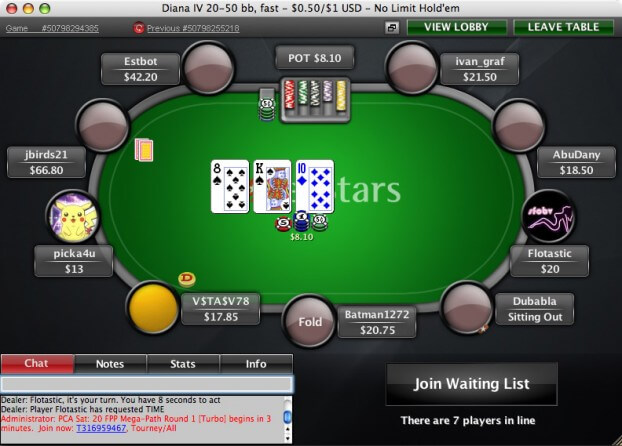 The world's largest online poker site, PokerStars has announced two brand new promotions for January.
As part of the promotions players who play on PokerStars will be able to get a chance to share in more than $500,000 in cash, 10,000 VIP Store gifts and a VPP boost that will give players a higher return.
Starting January 4th and going until February the 2nd the January Daily Challenge will take place. When a player accepts and completes a challenge they will be given a ticket to a daily $15,000 "All-in Shootout" tournament which will take place each day at 15:00 ET.
There are no limits on the amount of challenges a player can take part in and no limit on the amount of All-in Shootout tournament tickets.  If a player is able to complete ten daily challenges within a four week period then the player will be eligible for the  "Final Challenge All-in Shootout" which will have a prize pool of $100,000.
How Players Can Opt In
A player simply needs to login to their PokerStars account and enter Star Code "CHALLENGE".  This can be done on either the desktop client or the mobile apps that are available.
January JumpStart Promotion
Also launching on January 2nd is the January Jumpstart promotion which is designed to award players free VPP's by simply enter Star Code "JUMPSTART" before 23.59 ET on January 8.
Players will then be awarded a VPP Boost in their current VIP status which will be outlined below:
| | |
| --- | --- |
| Jumpstart VPP boost | VIP status at time of opt-in |
| 15 VPPs | BronzeStar |
| 25 VPPs | ChromeStar |
| 125 VPPs | SilverStar |
| 625 VPPs | GoldStar |
| 1,000 VPPs | PlatinumStar & higher |