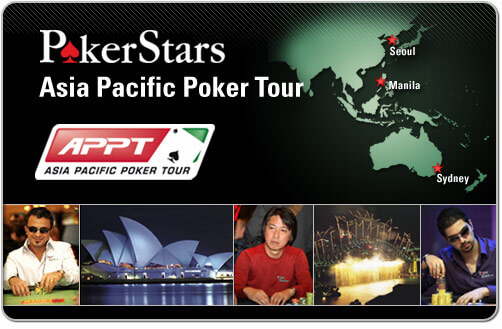 PokerStars has announce the Season 8 schedule of the Asia Pacific Poker Tour (APPT).  The 2014 season will kick off with the PokerStars LIVE Macau along with the 20th iteration of the Macau Poker Cup (MPC20) and will take place on January 10th and end in New Zealand with the APPT Auckland on November 19th.
APPT President Danny McDonagh had the following to say about the up coming Season 8 and having PokerStars consolidate the entire schedule.
Having the entire Asia-Pacific poker calendar, news, and updates in one location is huge. The APPT website becomes much more user friendly and improving the player experience is something we look to enhance each season.
The full schedule is listed below:
Tournament
Venue
City/ Country
Main Event Dates
Buy-In
MPC20*^
City of Dreams
Macau
January 16-21, 2014
HKD$11,000
(10,000+1,000)
APPT 8: Aussie Millions
Crown Melbourne
Melbourne, Australia
February 2-9, 2014
AUD$10,600
(10,000+600)
ACOP Platinum Series III*^
City of Dreams
Macau
February 20-23, 2014
HKD$5,500
(5,000+500)
ANZPT 6: Perth
Crown Perth
Perth, Australia
February 26-March 2, 2014
AUD$2,200
(2,000+200)
Macau Millions*^
City of Dreams
Macau
March 7-16, 2014
HKD$2,200
(2,000+200)
ANZPT 6: Sydney
The Star
Sydney, Australia
March 20-24, 2014
AUD$2,200
(2,000+200)
APPT 8: Seoul*
Paradise Walkerhill Casino
Seoul, South Korea
April 3-6, 2014
KRW3,000,000
(2,760,000+240,000)
ACOP Platinum Series IV*^
City of Dreams
Macau
April 26-27, 2014
HKD$5,500
(5,000+500)
APPT 8: Macau*^
City of Dreams
Macau
May 21-25, 2014
HKD$25,000
(23,000+2,000)
Macau Poker Cup*^
City of Dreams
Macau
August 8-13, 2014
HKD$11,000
(10,000+1,000)
ANZPT 6: Melbourne
Crown Melbourne
Melbourne, Australia
August 29-September 1, 2014
AUD$2,200
(2,000+200)
APPT 8: Asia Championship of Poker (ACOP) *^
City of Dreams
Macau
November 3-8, 2014
HKD$100,000
(95,000+5,000)
APPT 8: Auckland
Skycity Auckland Casino
Auckland, New Zealand
November 19-23, 2014
NZD $2,500
(2,250+250)
*3% of the prize pool will be withheld to cover tournament staffing costs
^ Please note this event is subject to regulatory approval