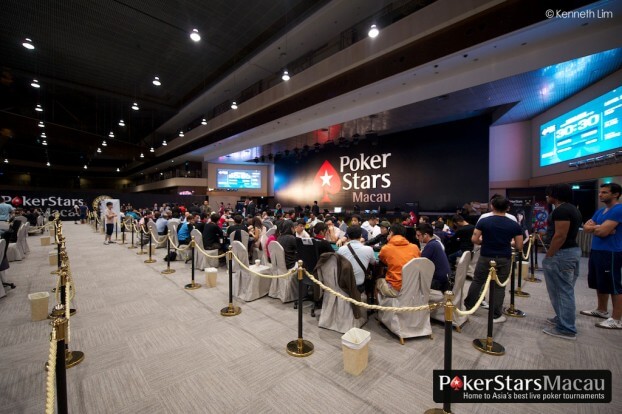 The popular PokerStars Live Macau has announced the 20th installment of the Macau Poker Cup (MPC).  The MPC will take place January 10th to the 21st in 2014.
The MPC20 will have a  HK $8 million (US $1 million) guarantee for the Red Dragon Main Event which is one of the biggest tournaments to take place in Macau.
Danny McDonagh, PokerStars Director of Live Poker Operations in the Asia-Pacific had the following to say about this years events.
After six years and 19 Red Dragon events, the Macau Poker Cup has changed the landscape of poker in Macau and throughout Asia. The MPC is Asia's biggest regional poker series and MPC20 is set to shatter all previous records.
The 2013 MPC set a record for an Asian tournament with having 891 unique players play in the Red Dragon event.  The MPC20 will most certainly surpass that record and PokerStars is looking to have over 1,000 unique players play.
The MPC20 will include 12 official "Asia Player of the Year" eligible events which will count toward the 2014 season.
The MPC20 will also offer two new tournaments which will be the HK $6,000 'Baby Dragon' warm-up event which will have a  HK $1 million guarantee.  As well as a HK $50,000 High Roller tournament which should have a big payday as well for the winner.
Team PokerStars Pro Celina Lin had the following to say about the MPC20.
I always knew the MPC would get bigger and the Red Dragon is hugely popular throughout Asia. It's hard to believe we're at number 20 already but I have no doubt MPC20 is going to be the biggest ever, and I love the opportunity of winning a historic event.
PokerStars Live Macau MPC20 Schedule (all figures in HKD)
Fri, Jan 10 @ 8pm — $2,000 Deepstack NLH (200k GTD) [2-day event]
Sat, Jan 11 @ 6pm — $6,000 BABY DRAGON (1m GTD) [2-day event]
Sun, Jan 12 @ 4pm — $2,000 Deepstack PLO [2-day event]
Mon, Jan 13 @ 7pm — $3,000 6-max [2-day event]
Tue, Jan 14 @ 7pm — $5,000 KO Bounty [2-day event]
Wed, Jan 15 @ 7pm — $3,000 NLH Turbo
Thu, Jan 16 @ 3:30pm — $2,400 Red Dragon MEGA Satellite (20 Seats GTD)
Thu, Jan 16 @ 7pm — $11,000 RED DRAGON ($8m GTD) – Day 1A
Fri, Jan 17 @ 2pm — $1,500 NLH Turbo
Fri, Jan 17 @ 7pm — $11,000 RED DRAGON ($8m GTD) – Day 1B
Sat, Jan 18 @ 3pm — $11,000 RED DRAGON ($8m GTD) – Day 1C
Sun, Jan 19 @ 6pm — $4,000 NLH [2-day event]
Sun, Jan 19 @ 8pm — $20,000 NLH ($1m GTD) [2-day event]
Mon, Jan 20 @ 6pm — $2,500 KO Bounty [2-day event]
Mon, Jan 20 @ 7pm — $50,000 High Roller [2-day event]
Tue, Jan 21 @ 3:30pm — $2,500 Deepstack NLH [2-day event]
For the complete MPC20 schedule please visit www.PokerStarsLIVEMacau.com
*All tournaments are subject to regulatory approval