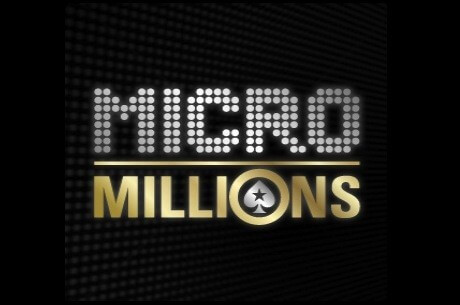 The PokerStars MicroMillions 5 Main Event is in the books and Lithuanian "stygher" took home the $160,726 first place prize.
The main event was a $22 buy-in No Limit Holdem event that saw a total of 59,213 players which is one of the largest ever for the MicroMillions.
This years first place prize was the biggest in history which surpassed last years record of $157,218 which was won my "SoyDelGlobo"
Heads up Play
When heads up play began S3XXYMUCK had a total of 348,238,700 chips to stygher's 243,891,300 chip count.
They both decided not to make a deal so this ended up being a fierce fight to the finish which saw wild swings during the 37 hands of heads up play.
When the blinds got to 5m/10m the final hand started with stygher raising to 21.2 million when he was on the button.
S3XXYMUCK decided to push all in and at that point he shoved in his 207,895,242 and stygher quickly called.
S3XXYMUCK: A♥6♦
stygher: A♠J♣
Both players were holding a coveted ace in heads up play but stygher had the better kicker and the kicker was what gave stygher the title as the flop was 5♦2♥T♥.
Then the turn hit with J♦ which gave stygher a pair of Jacks, and the river showed T♠ which was the final nail in the coffin of S3XXYMUCK as stygher won the hand and the title.
MicroMillions 5 Main Event Results:
1. stygher (Lithuania) – $160,726.14
2. S3XXYMUCK (Hungary) – $117,715.44
3. MarieKen2112 (Belgium) – $80,340.19
4. lacostae (Colombia) – $53,552.23
5. Legato (Sweden) – $34,805.40
6. Ramedium (Brazil) – $21,411.42
7. Mau9999 (Argentina) – $13,382.13
8. toril274 (Russia) – $8,041.12
9. Scrach face (Argentina) – $5,352.85
* resources – PokerStarsBlog.com