Worldwide online poker has seen a decrease in active cash players of around 1.3%.  This is a reversal over the previous week according to PokerScout.
However, one bright spot is the fact that a total of 7 sites are seeing increasing traffic number while just 3 are seeing declines.  As a whole the entire online poker market is down 6% when compared to this time last year.
Rush Week gave Full Tilt Poker a nice boost and has allowed Full Tilt Poker to retain its 2nd place position.  888 Poker has slipped a little which has allowed Party Poker to reclaim the 4th position on PokerScout.
The one site that has constantly seen amazing growth is PokerStars. PokerScout put together the following image which shows the total domination the poker giant has on the entire industry.  They have around 55% market cap which is unstoppable and if they are able to get their agreement with Resorts approved in New Jersey, we very well could see PokerStars gain a worldwide monopoly.
Revolution Continues to Falter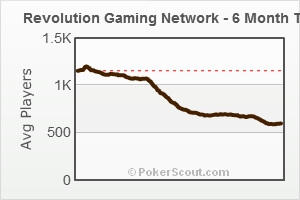 One network of note that continues to slide is the USA facing, Revolution Gaming as they have been in constant decline. As you can see by looking at the 6 month trend its a downward slope which is not good.  Some of the reasons for the decline is the insanely slow cashout times for players.
When a site is slow to pay it can only mean very bad things. Unless they are able to rapidly start paying out players you will continue to see players leave the network at alarming rates.
Lock Poker who is the flagship brand on the Revolution Network has seen some pros leave as well as attempting to sell their balances.
Lock Poker Pro "Hokie" was attempting to sell his $10,000 balance for just $3,300.
* resources – PokerScout.com