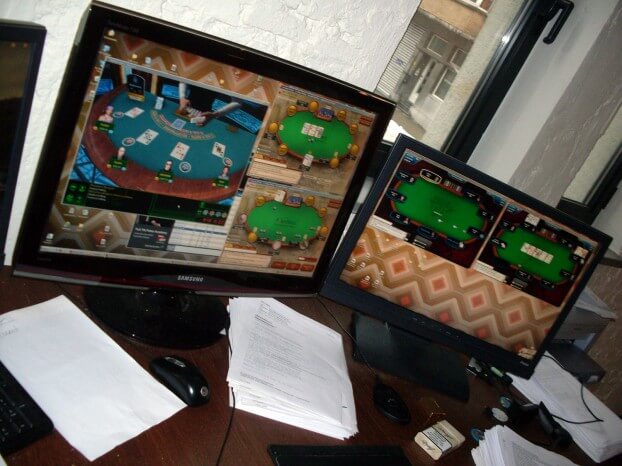 The wake left behind by the #1 online poker site in the world, PokerStars, has been quite turbulent for the three or four networks/sites that have been battling for the #2 through #5 spots in the traffic rankings since Black Friday sent the poker world upside down. The competition has become even more heated since the relaunch of Full Tilt Poker and since the start of the year Party Poker, Full Tilt Poker, and iPoker have all occupied the #2 spot, and it now appears that 888 Poker is ready to join that mix.
888 Poker has been on a marketing blitz of late, having sponsored virtually anything and everything WSOP related since the WSOP APAC back in March. It would seem that these sponsorships have paid off, as the site has caught up to the plummeting Party Poker for the first time ever.
The latest online poker traffic reports from www.PokerScout.com have iPoker and Full Tilt Poker tied for the #2 spot, with 888 Poker and Party Poker tied for the #4 spot based on the sites' seven-day rolling average of cash game players:
PokerStars: 24-hour Peak = 34,022, 7-day rolling average = 21,000
iPoker: 24-hour peak = 4,549, 7-day rolling average = 2,650
Full Tilt Poker: 24-hour peak = 4,113, 7-day rolling average = 2,650
PartyPoker: 24-hour peak = 3,842, 7-day rolling average = 2,050
888Poker: 24-hour peak = 3,185, 7-day rolling average = 2,050
Rolling average ties were broken by the peak traffic at the site
Meanwhile, over in the US, only Revolution has managed to maintain or improve their traffic ranking, while Revolution, Merge, and Winning networks have all seen declines in traffic since Ultimate Poker launched in Nevada back in April. The 500 or so players that routinely play for real-money on Ultimate Poker may not seem like a big deal, but when you consider that there is only an average of 2,500 players playing on the major US sites, a couple hundred players jumping ship to Ultimate Poker is devastating.
Revolution: 24-hour peak = 915, 7-day rolling average = 590
Merge: 24-hour peak = 756, 7-day rolling average = 385
Winning: 24-hour peak = 569, 7-day rolling average = 295
Ultimate Poker: 24-hour peak = 467, 7-day rolling average = 235
A number of factors could be contributing to the change in rankings:
Many European and ROW players headed over to Las Vegas for the WSOP
Skins have been closing and jumping to new networks
Sites have been implementing new policies like Party Poker's focus on recreational players
Revolution Gaming's cashout troubles have been a major cause of anxiety in the US market
*Data courtesy of www.pokerscout.com