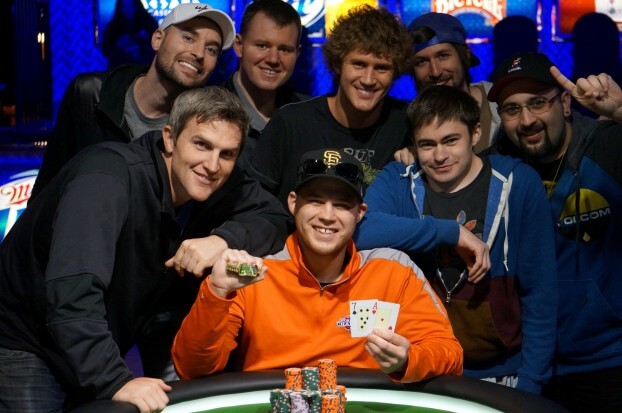 Event #30 just finished late last night and Chris Dombrowski won the $1500 NL Holdem tournament. The playing field had 2108 participants and the tournament lasted 3 days with just 13 players returning for the final day of action yesterday.
The players who weren't able to make the final table are Thomas Miller, Thien Le, Ryan Riess and Ben Greenberg. Once the final table was set Dimitar Yosifov (1,550,000 Chips) and Carter Myers (1,302,000 Chips) were the only two players over 1M in chips.
Jonathan Thompson was the 1st player knocked out of the final table. His A/Q of clubs lost to the pocket 10's of Moore. Yosifov raised with A/J not long after and Mike Pickett went all-in with K/J. Yosifov called with his A/J and hit a full house to win.
Matt Seer (7th), Chris Bolek (6th), Carter Myers (5th) and Dimitar Yosifov (4th) were the next to be eliminated. When action went 3-handed the remaining players were within 350K chips of each other. Jesse McEuen was the next to go in 3rd place.
Dombrowski held the chip lead when heads-up action started and he never relinquished that lead. HU action lasted 2.5 hours before Mathew Moore made a move with K/6 off-suit and got called by A/7. Dombrowski won the hand and the tournament.
WSOP Event #30 Results
Chris Dombrowski $346,332
Mathew Moore $215,578
Jesse McEuen $149,850
Dimitar Yosifov $107,922
Carter Myers $78,876
Chris Bolek $58,348
Matt Seer $43,730
Mike Pickett $33,191
Jonathan Thompson $25,448