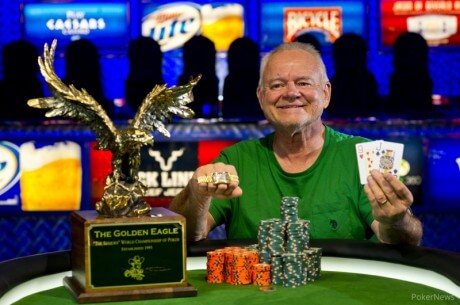 Event #26 had a huge playing field of 4407 players and a first place prize of over $650,000. The $1K Seniors Championship NLHE tournament just finished last night and Ken Lind emerged victorious after playing in his 1st World Series of Poker event.
Lind was among the chip leaders for most of the tournament and he was able to beat Dana Ott HU to win a bracelet. Lind was active on the final table from the get-go and he was able to knockout Fernando Halac (9th) and Jack Ward (8th) early on.
Heads-up play went back and forth until both players had made hands. On the final hand of the tournament Lind had a straight and Ott had trips. The straight held up and Ott took down the event. I'm sure he'll play in more events now this year in Vegas.
Event #26: $1000 Seniors NL Holdem Championship Results
Ken Lind $634,809
Dana Ott $390,601
John Holley $283,312
Barry Bashist $209,856
Randolph Spain $156,629
Michel Bouskila $117,799
James Miller $89,281
Jack Ward $68,180
Fernando Halac $52,474
Bracelets are expected to be handed out in three events today and we'll update everyone tomorrow with the results. Event #27 ($3K NLHE Mixed Max) is down to just two players (Isaac Hagerling: 2,690,000 Chips vs. Max Steinberg: 2,649,000 Chips).
There are still 16 players in Event #28 ($1.5K NLHE) with Masayuki Nagata leading the way heading into the final day. The bracelet in the $5K H.O.R.S.E. (Event #29) is also supposed to be awarded late tonight. Greg Mueller is leading with 28 players left.