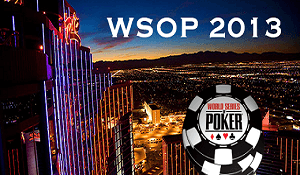 So far the 2013 World Series of Poker has only seen a few really interesting storylines and even fewer events that cause some buzz in the poker world: Chad Holloway kicked-off the series with a win in Event #1 and more recently Mike Matusow picked-up bracelet #4 by winning the $5k Stud 8-or-better event. But other than that there hasn't been too much to get excited about… unless of course you have David "Bakes" Baker or Dan Kelly on your fantasy poker team – I have Baker by the way.
Since the outset these two players have been cashing and making final tables virtually every day. In less than 20 events Kelly has amassed four cashes and two final tables so far at the 2013 WSOP, and has made it through to today's Day 2 in the $5k Pot Limit Holdem event. Baker has three cashes and two final tables thus far, and is the chip-leader with 15 players remaining in Event #17, a $1,500 NLHE tournament.
What makes both players so good (but also keeps them under the radar a bit) is that both men are well-versed in all of the poker formats, and are able to make a deep run in virtually any tournament they enter, regardless of stakes, format, or structure. So unlike the No Limit Holdem specialists they don't always get the publicity they rightly deserve.
For Baker, this will mark the fifth consecutive year he has cashed at least four times at the WSOP, the fourth consecutive year he has made at least one final table, and if he can pick-up a bracelet it would be his third in four years. Considered one of the best Mixed-Game tournament players in the world, Baker has won his bracelets in the $10k HORSE Championship in 2012, and the $10k NL Deuce-Seven Championship in 2010, he also finished 6th in the 2010 $50k Poker Players Championship, which is another Mixed Game tournament.
Baker began his poker career as an online player, where he has close to $4 million in career earnings, which is all the more remarkable when you consider he hasn't played online (that we know of) since 2009! Since making the switch to live poker he has won an additional $2.5 million in live tournaments.
Kelly was initially considered a strictly No limit Holdem player, thanks to his legendary success at the online poker tables where he racked up millions of dollars in tournament wins under the screen-name "DJK123". But since switching over to live tournaments Kelly has broadened his base of poker knowledge and is now a threat in every tournament he enters. Like Baker, Kelly is a bracelet holder, having won the $25k Six-Max NLHE tournament at the 2010 WSOP (worth a cool $1.3 million) and is fast approaching $3 million in career tournament earnings –to go along with his nearly $6 million in online tournament winnings.
Considering we are barely 20 events into the 2013 WSOP both of these players have a shot at history if they can somehow maintain the fast start they have gotten off to.
*Resources: www.thehendonmob.com, www.pocketfives.com