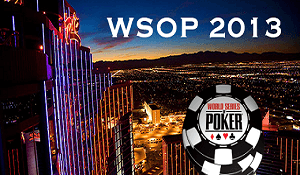 Dan Kelly is flat-out killing it during the first week of the 2013 World Series of Poker. Kelly burst onto the live poker scene following his $1.3 million win in the 2010 WSOP $25k 6-Max No Limit Holdem tournament, and it looks like he may be on the verge of a true breakout year if he can keep up is early pace throughout the 2013 WSOP.
So far at the 2013 WSOP Kelly has final tabled Event #2, the $5,000 8-Max No limit Holdem tournament, where he finished in 6th place, and now the online tournament legend (just Google DJK123 if you want to see an online poker resume that will make your jaw hit the floor) is making another deep run in Event #6.
He is also in the $1,500 Millionaire Maker tournament, where he currently sits in 14th place with 133 players remaining. Already guaranteed his second cash of the 2013 WSOP, Kelly is on pace to have one of the better WSOP tournament series in the history of the game –provided he can keep it up of course.
As it stands right now, Dan Kelly has nearly $2.5 million in career tournament earnings in live poker tournaments (most of that coming from his WSOP win as well as a 2012 WPT final table), to go along with his near $6 million in online winnings.
Here is a look at the final table payouts from Event #2 where Kelly finished in 6th place just a few days ago:
1. Trevor Pope – $553,906
2. David Vamplew – $342,450
3. Darryll Fish – $215,286
4. Jared Hamby – $154,518
5. Jamie Armstrong – $112,695
6. Dan Kelly – $83,582
7. Brandon Meyers – $62,915
8. David Peters – $48,130
And here is a look at the top 10 chip counts entering today's Day 3 of Event #6, along with where Dan Kelly resides on the leader-board:
1. Andy Hwang — 912,000

2. Gary Friedlander — 837,000
3. Chris Hunichen — 586,000

4. Ben Chen — 495,000
5. Pedro Rios — 461,000

6. Andrew Badecker — 431,000

7. Mike Del Vecchio — 411,000

8. Jonathan Aguiar — 375,000
9. Ryan Welch — 346,000
10. Kevin Kung — 345,000

14. Dan Kelly — 277,000
The Millionaire Maker will likely turn the winner into a household name in the poker world, considering the tournament has set the record for the largest non-Main Event tournament in the history of the WSOP. The tournament attracted a field of 6,343 players, and will award a fist-place prize of nearly $1.2 million. Here is a look at the final table payouts for the Millionaire Maker tournament:
• 1st place: $1,198,780
• 2nd place: $741,903
• 3rd place: $534,506
• 4th place: $400,408
• 5th place: $302,104
• 6th place: $229,575
• 7th place: $175,714
• 8th place: $135,467
• 9th place: $105,154
*Resources: www.wsop.com, www.thehendonmob.com