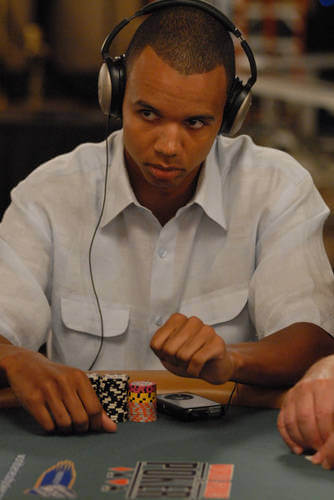 Back in August of 2012 we learned that Phil Ivey was embroiled in a dispute with Crockfords Casino for some £7.8 million in winnings that occurred during a two day session of Punto Banco Baccarat. Last week we learned that Phil Ivey had filed a lawsuit against the casino back in March, claiming they are illegally withholding his winnings.
Now, in a Daily Mail article this weekend the casino fired back with its own side of the story, claiming Ivey took advantage of a "Rogue" deck to beat the casino, with the help of an accomplice. This is the most detailed account of the story that has come to light so far.
While Ivey's statements about the incident are vague, according to the Daily Mail, Crockfords is talking, and is giving specifics about precisely what occurred. According to the account given in the Daily Mail, the casino was using "Diamond-backed" cards, which if not cut precisely can look different based on the way they are turned.
The casino's account of the event was that whenever Ivey was dealt an 8 or a 9 his companion would ask the croupier/dealer to "turn" the card, claiming Ivey was superstitious, which because of the design flaw would enable Ivey to identify them –players are not allowed to touch the cards in baccarat, but because there is no advantage to having a card turned the dealer complied.
Interestingly, this isn't the first time this method has been used to beat a casino, and in previous instances the casino won in court against the player who had noticed the design flaw and taken advantage of it.
Basically, it appears that if a casino is incompetent and doesn't check the equipment it puts in play you cannot take advantage of it –which seems like a really bad decision to me, as long as the player did not introduce the cards, dice, etc.
What makes the story even more interesting is the "accomplice", a woman initially described back in August by the Daily Mail as an "attractive Oriental woman."
The new Daily Mail article goes into a bit more depth regarding her identity without actually identifying her, saying she has been banned from at least two other casinos around the world, currently lives in Las Vegas, and "along with two others, she is said to have won more than $1 million in similar fashion in the US in 2011, but the money was similarly withheld and the casino's decision was later upheld by a gaming commission."
Here is part of the original writ filed by Ivey back in March:
"I am deeply saddened that Crockfords has left me no alternative but to proceed with legal action, following its decision to withhold my winnings. I have much respect for Gentings, which has made this a very difficult decision for me."
"Over the years I have won and lost substantial sums at Crockfords and I have always honoured my commitments. At the time, I was given a receipt for my winnings but Crockfords subsequently withheld payment. I, therefore, feel I have no alternative but to take legal action."
Mr Ivey's lawyer, Matthew Dowd of Archerfield Partners, said: "It is with great regret that Phil has been forced to issue court proceedings against Crockfords to secure payment of his winnings. The matter is now in the hands of the Court."