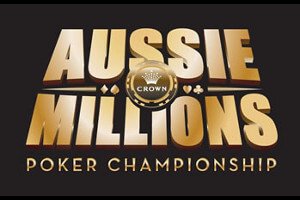 There aren't too many poker players in the world that would fork out $100,000AUD to buy-in to a poker tournament. However, this week a total of 22 poker players paid a $100,000AUD buy-in to play in the 2012 Aussie Millions $100K Challenge. The main event in Melbourne just kicked off yesterday and the massive $250K Challenge is still yet to come at the 2012 Aussie Millions.
With the small playing field of only 22 players only 4 players made money. The action on Day 1 was played down until the final table and on Day 2 the final 8 players sat down in Studio 3 at the Crown Casino to determine which 4 players would make money. The 4 players that didn't make the money on the final table included Nam Le, Sam Trickett, Sorel Mizzi and Gus Hansen.
Gus Hansen finished on the bubble in the 2012 Aussie Millions $100K Challenge and walked away with nothing. Hansen had been doing great in Macau prior to coming to Melbourne, but his recent heater has slowed down in Australia. Tony G finished in 4th place and won $242,000AUD.
Tony G went all-in with A/6 of hearts against Dan Smith's A/Q off-suit and wasn't able to improve. Joe Hachem was Smith's next target, as Smith knocked out Hachem in 3rd place. Hachem went all-in with A/9 of clubs against Smith's A/10 of spades. Hachem managed to hit a 9 on the flop and turn to give him trip 9's, but Smith hit a 3rd spade on the river to win with a flush.
Dan Smith was starting to dominate the final table in the 2012 Aussie Millions $100K Challenge when the action went heads-up with Mikhail Smirnov. Smith started the heads-up battle in 2nd place, but that quickly changed when he was able to double up with pocket jacks against Smirnov's pocket tens.
The two players battled back and forth for a little while before Smith ended up winning the tournament. Smith and Smirnov both earned their biggest career cash in a live poker event and I'm sure it was a huge confidence builder for the players. This tournament had a small playing field, but the competition was stacked and noone would have guessed these two would have finished top two.
2012 Aussie Millions $100K Challenge
Dan Smith $1,012,000AUD
Mikhail Smirnov $616,000AUD
Joe Hachem $330,000AUD
Tony G $242,000AUD
Daniel Cates vs. Tony G
After the 2012 Aussie Millions $100K Challenge Tony G and Daniel Cates were interviewed. During the interview Tony G mentioned that there might be a big cash game going on in Melbourne eventually, but we can't confirm anything. Daniel Cates also stated that he would still like to take on anyone in the world in a $100K heads-up match and Tony G would be his ideal opponent.