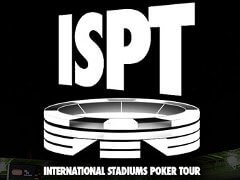 After an underwhelming total of two players registered for the first of several Day 1's for the ISPT Main Event, Lock Poker cancelled the Day 1a tournament of the ISPT this past Sunday. A number of factors have played into the worrisome lack of interest, lacking from all-out confusion about the event and the structure to ongoing schedule changes for the innovative event.
The problem doesn't seem to be on Lock Poker's end, as the site ran its usual Sunday tournament schedule including drawing over 1,000 players for their $100k Sunday Guarantee tournament; instead it seems the lack of interest stems from the ISPT side of things, considering I'm still having a bit of an issue figuring out how the Day 1's will work, and hw the tournament structure will play out, and I follow this stuff pretty closely!
As far as I can tell, players taking part in the online portion of the event (Day 1's) will see one player for every 10 entries make it through to the live portion of the tournament that will still be held at Wembley Stadium, and is scheduled for early June. So, Day 1 of the ISPT acts as a super-satellite of sorts, with players moving on to play in the live event.
Lock Poker is scheduled to run a total of six Day 1's for the International Stadiums Poker Tour (ISPT) and Day 1a has now been moved to next weekend. Initially players were going to play Day 1 at Wembley Stadium on some type of tablet computer, but this turned out to be a logistical nightmare, and now players will be playing Day 1 of the tournament across several online poker sites on six different days –Lock Poker is the only place US players can take part in ISPT satellites.
Other sites have seen ISPT Day 1's take place, but attendance has still been fairly underwhelming across the board. At MyPok.fr 130 players registered for that site's Day 1a, with 13 players moving on to play in the live portion of the tournament. While there is still a lot of time before the live event takes place, so far the ISPT is off to an inauspicious start.
Here is a look at the satellites and scheduled Day 1's of the ISPT at Lock Poker:
Satellites
17:00 GMT – Super Satelitte $5 + 0.25
17:30 GMT – Super Satelitte $8 + 0.40
18:00 GMT – Super Satelitte $5 + 0.25
18:30 GMT – Super Satelitte $8 + 0.40
20:00 GMT – $40 + 4
21:00 GMT – $10 Rebuy
Events
1A: Sunday Feb 10th – 21:00 GMT
1B: Sunday March 10th – 21:00 GMT
1C: Sunday April 14th – 21:00 GMT
1D: Sunday May 5th – 21:00 GMT
1E: Sunday May 12th – 21:00 GMT
1F: Sunday May 19th – 21:00 GMT
More details at lockpoker.eu/promos/international-stadiums-poker-tour