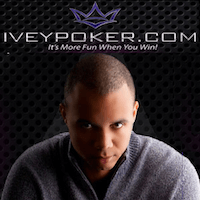 IveyPoker.com added two more players to their ever-expanding roster on Thursday, 2012 Global Poker Index Player of the Year Dan Smith and online legend Andrew "luckychewy" Lichtenberger. The signings of the two young stars comes just before the NBC National Heads-Up Poker Championship, where both players will be competing along with a couple of other IveyPoker team members, including Phil Ivey himself and 2012 WSOP Champion Greg Merson.
The timing of signings has been something of a calling-card for IveyPoker.com, having signed Greg Merson just days before the WSOP Main Event final table (hitting the jackpot when he won the thing) and more recently inking high-roller Dan Shak after he made the final table of the $100k Super-High-Roller at the 2013 PCA.
The new additions bring the IveyPoker.com roster up to 26 players, with several really big names already on board for the website which hasn't even officially launched yet – the site was supposed to go live on January 14th but that deadline has come and gone with no new updates. Here is a look at the complete IveyPoker.com roster:
1. Phil Ivey – USA
2. Patrik Antonius – Finland
3. Jennifer Harman – USA
4. Greg Merson – USA
5. Cole South – USA
6. James Dempsey – UK
7. Josh Brikis – USA
8. Jonathan Tamayo – USA
9. Gillian Epp – Canada
10. Matt Giannetti – USA
11. John Eames – UK
12. David Peters – USA
13. Balazs Botond – Hungary
14. Mike Leah – Canada
15. Matias Gabrenja — Argentina
16. Justin Pechie — USA
17. Alex Bolotin — USA
18. Dan Shak – USA
19. Christian Harder – USA
20. Jackie Glazier – Australia
21. Griffin Benger – USA
22. Ronnie Bardah – USA
23. Kevin Vandersmissen – Belgium
24. Matthew Frankland – UK
25. Dan Smith – USA
26. Andrew Lichtenberger — USA
The roster is a good mix of US and foreign players, cash-game and tournament players, as well as having well-known poker players and rising stars. Smith and Lichtenberger are by far the biggest names to join IveyPoker.com since the site first launched with Ivey, Jennifer Harman, Patrik Antonius, and later Merson as sponsored players.
On a lighter note, the announced signing of Smith and Lichtenberger, and the sporadic way the site has been making similar announces seemingly every week had Norman Chad in a full-blown bout of Twitter cynicism throughout Thursday; I've listed a couple of his better zingers below:
Never-ending #TeamIvey roster adds two more members: @DalaiLama and @WileECoyote. Congrats to both.
If I were starting http://chadpoker.com , @philivey would be my 1st call. He starts http://iveypoker.com & contacts Buddhist monks before me.
If Ivey had any business sense at all he would immediately sign Norman Chad; not as a sponsored pro (although Chad does have a WSOP final table on his resume) but to run the site's Twitter account.