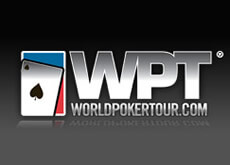 Recently the World Poker Tour has begun hosting multiple tournaments at virtually the same time, as is the current situation with the concurrently running WPT Prague and the verbose WPT Doyle Brunson Five Diamonds World Poker Classic.
WPT Prague
Over in Prague the WPT decided on three separate starting days for what is becoming one of the most popular events in Europe (Prague itself is turning into a poker hotspot of sorts) and the final attendance tally bore the fruit of the WPT's decision. Day 1a saw 115 entries, Day 1b's number rose to 179, and Day 1c nearly doubled the field size as 273 players joined the fray. In all the attendance for the WPT Prague Main Event reached 567 players.
Among the field were the usual crop of players who play the European events, many of whom ended their Day 1 flight near the top of the leader-board, including Leo Margets, Kevin MacPhee, Mike "Timex" McDonald, Brian Lemke, Elio Fox, and Shannn Schorr.
Here is a look at the chip-leaders heading into Day 2 of the event:
1. Mikhail Mazunin – 203,600
2. Yannick Bonnet – 197,200
3. Pasi Heinanen – 193,800
4. Shannon Shorr – 191,800
5. Kevin MacPhee – 190,200
6. Pawel Brzeski – 173,100
7. Mike McDonald – 160,000
8. Daniel Ospina – 159,000
9. Alexander Staengle – 157,500
10. Brian Lemke – 155,400
Other notables include Keven Stammen with 127,200 chips, Leo Margets with 125,000 chips and Elio Fox with 123,200 chips.
WPT Doyle Brunson Five Diamonds World Poker Classic
Meanwhile, over in Las Vegas, a day after the WPT Prague Main Event began, one of the few $10,000 buy-in tournaments remaining in poker also got underway, and it seems that attendance numbers were not impacted by the tournament over in Prague. By the end of the late registration period on Day 2, and with all of the reentries tabulated, the total number of entrants in the event reached 503 players, which should generate a first place prize of around $1 million; eclipsing the 500 entry mark also insured 54 and not 45 players would make the money in the tournament.
A number of players took advantage of the unlimited reentry period, including Daniel Negreanu who entered five times and Sam Trickett who shot four bullets when all was said and done. Neither man was able to get anything going as both were eliminated before the end of the day.
Here is a look at the top 10 chip-counts heading into Day 3 of the tournament:
1. Michael Mizrachi – 272,600
2. Frank Rusnak – 255,900
3. Arthur Morris – 242,000
4. Warwick Mirzikinian – 232,200
5. Ravi Raghavan – 211,500
6. Chino Rheem – 209,000
7. Tyler Reiman – 202,700
8. Vanessa Selbst – 202,100
9. George Dunst – 201,400
10. Sorel Mizzi – 198,600