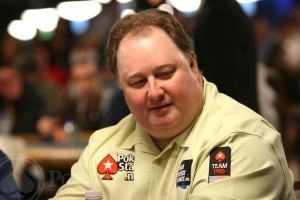 No you are not having a case of déjà vu, and this isn't April 1, so it's not a joke either. Actually I'm starting to think that the Heartland Poker Tour may be rigged. While this seems like a bold statement (and is in fact a joke) how else can you explain the run Greg Raymer has been on at HPT events in 2012. This week Raymer won his fourth HPT Main Event this year, a remarkable feat made all the more remarkable when you consider that Raymer has only played eight HPT tournaments!
It isn't like Raymer is playing in two-table tournaments, or besting a field of first-graders either; HPT Main Events boast a $1,500 buy-in, and attract at least a couple hundred players, many of whom are top-tier tournament pros. When I saw the results this morning I initially thought I was looking at old results from his third victory; it actually took me a few minutes to realize he had won another HPT Main Event!
The remarkable four-month run at HPT events began in Albuquerque, New Mexico when Raymer defeated a field of 131 players to win his first HPT title at the end of July; the run continued with a second victory, this time in Missouri, where Raymer weaved his way through a 336 player-strong field; the 2004 WSOP Champion than pulled-off the HPT trifecta by winning the HPT Main Event in Prairie Meadows where he took advantage of the rebuy format, using five bullets on Day 1 of the tournament.
Raymer's recent victory came at the HPT Main Event in Florence, Indiana, besting a field of 283 players on his way to the title. Here is a glimpse at the final table payouts from the event:
Greg Raymer – $106,030
Jacob Bazeley – $59,706
Bruce Ostrander – $38,088
Iverson "Cotton" Snuffer – $32,941
Jason Gwinn – $25,324
Kenny Hicks – $20,588
Before picking up win #4 on the HPT, Raymer was the only player in the tour's history to win two events in the same season (he now has boosted that number to four), and he was also the only player to win three HPT Main Events, and now he has broken his own record with his fourth.
Here is a look at Raymer's previous HPT victories:
HPT Albuquerque Main Event results
Greg Raymer – $71,875
Robert Crawford – $42,500
Scott Dougherty – $26,875
Benjie Benaviden – $21,550
Allan Hedin – $16,250
Steven Carruthers – $14,375
John Bechard – $11,875
Alberto Herrera – $10,625
Julian Melancon – $9,375
HPT Missouri II Main Event results
Greg Raymer – $121,973
Ryan Hickey – $69,034
Alona Sushynina – $43,908
Shawn Roberts – $37,810
Penelope Banhidy – $29,272
Stan Jablonski – $23,906
Dennis Phillips – $14,636
Marvin Glowczewski – $13,904
Brad Albrinck – $12,246
HPT Prairie Meadows Main event results
Greg Raymer — $72,089
Chad Lawson — $41,771
Craig Casino — $26,275
Ben Stroh — $22,233
Ed Sinnott — $16,978
Josh Birkenbeul — $14,526
James Swearngin — $10,780
Blake Cavanagh — $9,432
Raymond Behnke — $8,624