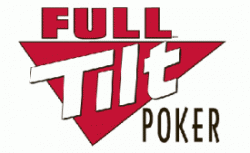 If anyone was wondering how Full Tilt Poker's relaunch would affect the online poker world we now have a full week of data to work with, and all the initial signs point to the relaunch as being a veritable boom for online poker. On the first day of operation Full Tilt Poker managed to reclaim the #2 spot behind PokerStars on PokerScout.com's traffic report, pulling in about 15,000 cash-game players and maintaining an average of over 8,000 cash-game players over the first week.
Perhaps more importantly than their own traffic numbers was the impact Full Tilt Poker had on online poker as a whole, boosting online poker traffic by 10% according to PokerScout.com, with only a 5% decrease in traffic from other sites. What this means is that people not only returned to Full Tilt Poker, but people who have been out of online poker or are new to the game returned as well!
The question now is whether or not Full Tilt Poker can maintain this player base once the initial rewards from the "Deal Me In" promotion expire, although it seems the site has put in place contingency measures for this, namely the opening of new markets as Full Tilt Poker receives licenses from countries like Italy, France, and Belgium, as well as the upcoming FTOPS XXI tournament series which should see the site swarmed with every tournament player in online poker in early December.
The revival of Full Tilt Poker is more of a vote of confidence for PokerStars (which purchased Full Tilt Poker this summer) than anything else. I can't imagine that any company purchasing FTP after what it went through would be able to relaunch the site without rebranding it. PokerStars was in the unique position of having the poker community's complete trust, and with all of the exposure the deal received the entire poker community knows that Full Tilt Poker is now in good hands.
The framework for success is already in place as Full Tilt Poker has three of the biggest names in poker on its roster: Gus Hansen, Tom Dwan, and Viktor "Isildur1" Blom. The site has also released the details for the FTOPS XXI which will boast $7.5 million in guaranteed money over the course of the 35 tournaments, culminating with the $1.5 million guaranteed prize-pool for the $600 Main Event.
With that said, poker players in the US have been left out in the cold, still waiting on a very silent Department of Justice to reveal their plans for the remission process that will see some $150 million repaid to US players. The last contact the poker world had with the DOJ was back in August when they put a call for third-party payment processors, saying the application process would end August 31… Today's date is of course November 13…