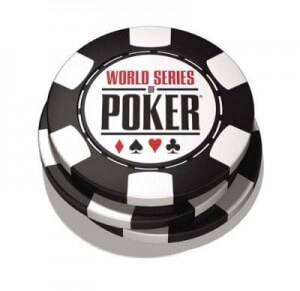 The "Terrific Three" are set at the World Series of Poker Championship Event after an exciting evening of poker broadcast over ESPN2.
For those of you who may have forgotten who the "Octo-Nine" were this year (moved up due to next week's Presidential election), here's the rundown by their seat positions:
Seat 1: Russell Thomas, 24.8 million
Seat 2: Jacob Balsiger, 13.115 million
Seat 3: Jeremy Ausmus, 9.805 million
Seat 4: Steven Gee, 16.86 million
Seat 5: Greg Merson, 28.725 million
Seat 6: Jesse Sylvia, 43.875 million
Seat 7: Robert Salaburu, 15.155 million
Seat 8: Andras Koroknai, 29.375 million
Seat 9: Michael Esposito, 16.26 million
The early action was tentative, to be honest, as the players looked to get acclimated to the stage at the Penn and Teller Theater in the Rio. Over the first twenty hands, there was very little action, but on Hand #22, the first significant move occurred.
After a bet from Salaburu in middle position, Esposito and Gee came along for the ride. The 2-5-10 flop brought a check from Gee, but Salaburu made a continuation bet that was called after Esposito released his hand. A trey on the turn brought another check from Gee and Salaburu joined him with a check to see the river. When a deuce completed the board, Gee popped up with a 1.55 million bet. Immediately Salaburu made the call, tossing his pocket Kings on the felt to take the hand and knock Gee down the ladder.
This might have been a premonition of what Gee would do later. Under the gun, Gee opened up the action on Hand #30 for 900K, was called by both Merson and Thomas, and the trio went to a flop. The 7-4-5 arrangement looked good to Gee, who bet out 1.6 million, but was met by a Thomas call after Merson folded. Gee fired again on a Jack on the turn, this time worth 3.25 million, but Thomas would not go away and called. On a three river, the drama truly ramped up.
After some consideration, Gee moved the remainder of his stack to the center, a sizeable chunk at over 11 million. Thomas was visibly disturbed by the move, looking over a 7-4-5-J-3 board that presented several obstacles, and went into the tank for well over five minutes. After constructing the hand in his head, Thomas made the call to the utter disgust of Gee. Gee tabled his pocket eights and saw what he feared…Thomas tabling his pocket Queens for a hero call that knocked Steven Gee out in ninth place.
Following the knockout of Gee, Thomas would use those chips to move up the leaderboard. By the 50th hand, he had eclipsed Merson as the challenger to Sylvia, but there were players lurking that were waiting for their moves. One hand would catapult a player into a position that he will use to move on to Tuesday's action.
After an Ausmus raise from under the gun to 800K, Sylvia smooth-called to see Salaburu squeeze for 2.8 million in chips. Surprisingly, Balsiger popped out of nowhere to move all in, forcing out both Ausmus and Sylvia. Salaburu immediately called, tabling his pocket Queens, but he was stunned once Balsiger turned up his pocket Kings. When the board failed to bring a Queen, Salaburu sunk to the basement of the remaining eight players.
The defeat doomed Salaburu to the eighth place finish and once again by a difficult beat. In a blind versus blind battle, Sylvia moved all in and Salaburu made the call, showing up a pocket pair of seven versus a sheepishly-shown Q♣ 5♣ from Sylvia. The A-A-4-2 flop and turn favored Salaburu for the double, but a lightning-strike Queen came on the river, knocking Salaburu from the tournament in eighth place.
With the final seven players all guaranteed a seven figure payday, the play predictably slowed down. Koroknai chipped up through Sylvia to put four men over the 30 million mark, while Balsiger, Ausmus and Esposito were left at the bottom of the pyramid. After a break, the next man to depart would be determined.
Sitting on approximately 7 million in chips, Esposito went on the offensive. His first two shoves went unanswered, but the third time he found a player with Merson. With his A-J facing off against Merson's Big Slick, the flop and turn brought a possible flush to Esposito. Once the river blanked, Esposito was out in seventh place.
Merson assumed the chip lead with that hand, but Sylvia would show tremendous resolve in retaking the lead by almost 15 million chips at one point. It wasn't until perhaps the only misstep of the tournament that Merson was able to take over the chip lead and by a sizeable margin.
On the button, Merson made a min-raise to one million chips. Sylvia made his move from the small blind with a three bet, but Koroknai pushed out a four bet of 5.3 million (the duo of Merson and Sylvia had been abusing Koroknai in these situations). Merson immediately put out a five bet to 9.2 million, which was enough to get Sylvia out, but left Koroknai thinking.
Koroknai eventually made the decision to move all in and was met with an immediate call from Merson. Tabling his K-Q, Koroknai rolled his eyes as Merson showed off his A-K for the dominant hand. Once the board ran out eight high, Koroknai was out in sixth place and Merson was the dominant chip leader.
With two more players to go to get to Tuesday night's action, Thomas, Ausmus and Balsiger were facing off against the big stacks of Merson and Sylvia. Balsiger began a charge from this point, taking down pots to move into the third place position. After Ausmus was vanquished by Sylvia in fifth place, the "Terrific Three" were determined.
In a blind versus blind battle, Thomas made an initial 1.5 million raise, only to be met by a Balsiger all in. Thomas debated the issue in his head and finally made the call, tabling an A-9. Balsiger had the goods with his A-K and, after an innocuous board of 8-Q-5-5-7, Thomas was out in fourth to set the "Terrific Three."
When the cards fly tomorrow night on ESPN (9PM Eastern Time), this is the way the final three line up:
Greg Merson, 88.425 million
Jesse Sylvia, 62.825 million
Jacob Balsiger, 30.825 million
This situation seems to line up better than last year with Ben Lamb's departure from the table within three hands of the start. These players are going to be much more deliberate in their actions, with Merson and Sylvia concerned about giving chips to a surprisingly adept Balsiger. It will be a huge battle tomorrow night, played out "almost live" (a fifteen minute delay) as the next World Champion of poker is determined.