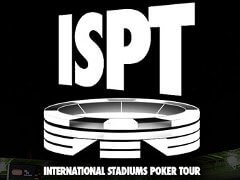 One thing is definitely for sure, the Laurent Tapie/Prosper Masquelier International Stadiums Poker Tour (ISPT) isn't going to be skimping when it comes to their marketing budget. The monumental undertaking has already signed the likes of Mike "The Grinder" Mizrachi, Sam Trickett, and Liz Lieu as official ambassadors, as well as signing Patrik Antonius to some sort of sponsorship deal (Antonius wore an ISPT patch at the Partouche Poker Tour), and now the fledgling poker league has added yet another big name to their ambassadorial roster in the form of David Benyamine.
The marketing strategy seems to be focused on bringing in players from across the globe, as the signings feature a UK superstar in Trickett, a US star in Mizrachi, Lieu appeals to both young men (Google Images if you don't believe me!) and Asian players, and now the Frenchman David Benyamine. It seems like a concerted effort on the part of the ISPT to make the tournament as international as possible –which is probably a good idea considering they are crossing their fingers that tens-of-thousands of people will turn up for the inaugural event at Wembley Stadium in May, 2013.
The signing of Benaymine was announced at the Partouche Poker Tour Main Event this past week, and is just now getting some press after the controversies from that tournament have been put in the rearview mirror of the poker world. Benyamine joined his fellow ISPT ambassadors for a photo-op in Cannes, some of which you can see here: http://vimeo.com/49166394
Benyamine is best known for his incredible cash-game run a few years back, where he basically owned the high-stakes poker tables at Full Tilt Poker. David has also appeared at four World Poker Tour final tables, winning the WPT Grand Prix de Paris back in 2003, and he has a WSOP bracelet, winning the $10k Omaha 8 or better Championship event back in 2008. For his career Benyamine has over $6.3 million in tournament earnings.
Joining a roster that is so strong it puts him in 3rd place out of the four players in terms of poker skill and accolades, Benyamine will share time with two-time WSOP $50k Players Championship winner Mike Mizrachi, cash-game poker player and model Liz Lieu, and Sam Trickett who is my choice for the best poker player on the planet right now (yes he's better than Phil Ivey imo).
It's unlikely the ISPT will suddenly stop signing poker players as they gear-up for the May debut in Wembley, and considering the cast of players they have already brought under the ISPT banner chances are the roster will simply grow larger and more impressive in the coming weeks and months.