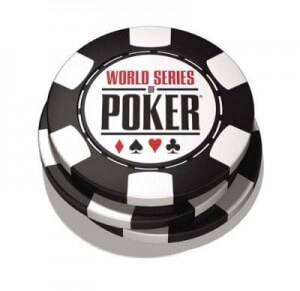 Every summer ESPN is the network Americans go to when they want to watch poker. ESPN just released their TV schedule for the 2012 World Series of Poker and there will be plenty of action to watch. Last year was the 1st time that ESPN broadcasted the action from the WSOP live, but this year they've toned down the coverage again. Too many fans didn't like the live coverage last year because it took forever for some players to act and unless you're a hardcore poker fan the coverage was boring.
Two events this year will be aired near-live at the 2012 WSOP on ESPN. The main event final table will be aired with a 15 minute delay on October 30th 2012 at 9PM and the Big One for One Drop will be aired near-live on July 3rd from 3PM – 8PM. The huge $1M buy-in tournament should draw a lot of spectators, as there has never been a tournament with a bigger buy-in. I personally can't wait to watch the live coverage of the Big One for One Drop, as the playing field is small and there is a huge prize pool.
ESPN will also have 12 weeks of coverage leading up to the final table. The 1st week will cover the WSOP National Championship and the remaining weeks will cover the main event. Lon McEachern and Norman Chad will be providing the commentary plus we'll see Kara Scott in Vegas providing commentary. Each week ESPN will be airing the WSOP show on Tuesday and the time will either be 8PM – 10PM or 9PM – 11PM most weeks.
PokerStars SCOOP Results
If you haven't heard yet Viktor "Isildur1" Blom won the 2nd event and 3rd event at the PokerStars SCOOP. Blom won Event #2-M, which was a $215 NLHE Freezeout tournament with a $1M guarantee. Blom won $250K and this was the 1st time that Blom had won a major poker tournament. Blom is famously known for destroying high-limit cash games, but he hasn't built a reputation for being a great MTT player.
Blom also won event #3 at the PokerStars SCOOP for another $160K. If this is a sign of things to come Blom may be a player to look out for this year at the 2012 WSOP. Shaun Deeb is another big name that won a SCOOP event. Deeb won Event 8-H today and this was his 2nd SCOOP title although I'm sure there will be more in his future. The SCOOP is just heating up at PokerStars, so make sure you try playing in some of the events. You may even get to play against the likes of Blom or other PokerStars Pros.