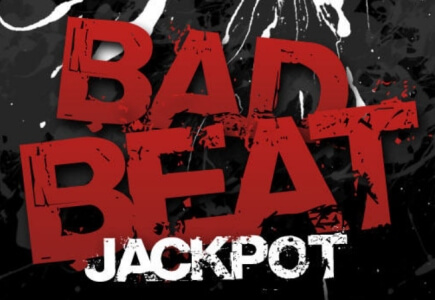 There are a couple features that we want to talk about on two different networks in this article. First off, we want to notify our visitors that the Merge Gaming Network has decided to close down the bad beat jackpot (BBJ) tables. Once the current BBJ is won by a player there will no longer be anymore BBJ tables on the Merge Network.
As of writing this post the BBJ is over $300K, but that isn't too high compared to some BBJ that we've seen hit. The last time the Merge Network BBJ was hit was back in January and the jackpot was over $1M. It could still be months before the BBJ is hit, so if you want a chance to win a life changing amount of money on the poker tables you can still play for the last BBJ at Carbon Poker.
A Merge representative stated that the company thought about the decision for awhile and they decided to make the move to shutdown the BBJ tables in order to improve the poker room ecology. We should see an increase in the number of cash games on the network, but I'm sure some recreational players will leave the network unless they create new promotions.
Getting rid of the bad beat jackpots on the Merge Network will make some players happy due to the increase in action. Unless the BBJ is abnormally big grinders don't play on the BBJ tables because of the insane rake. Typically recreational players build up the jackpot and once it's big enough other players start playing on the BJJ tables to try and hit the jackpot.
PokerStars Running it Twice Feature
This week a rep from PokerStars announced that the "Run it Twice" feature should finally be implemented on the test client and that means it could be available on the main client shortly as long as beta testing goes fine. This is another feature that most of the online poker world won't use, but being able to run it twice should help increase high limit action at PokerStars.
Once the run it twice feature is implemented players will need to select that they want to use the feature. If you have the option selected to run it twice and your opponent does as well when all-in the rest of the board will be dealt twice. You can only run it twice on Holdem and Omaha poker tables. Being able to run it twice will help lower variance in all-in situations for players.