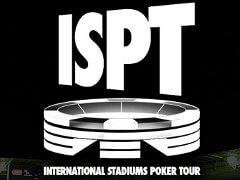 Mike "The Grinder" Mizrachi is no stranger to poker sponsorships (he appears as something of the poker equivalent of a NASCAR driver from time to time, with patches all over his clothes) but his latest endeavor could very well be his biggest to date as Mizrachi was named the official ambassador for the Laurent Tapie-led International Stadium Poker Tour (ISPT).
The ISPT is a monumental undertaking developed by Laurent Tapie and former igaming executive Prosper Masquelier where the worlds of online poker and live poker will come together in a single tournament. Players will pile into sports arenas (the first locale being Wembley Stadium) and take part in a massive tournament where they will first play from handheld tablet computers until about 10% of the field remains, at which point the event will switch to live tournaments on the floor of the arena.
The ISPT is looking to pack the stadium with some 30,000 players, and has already tossed-around some huge numbers, including a €20,000,000 prize-pool and €10,000,000 for the winner of the event. The tour was seen as a long-shot to ever get off the ground, especially after the Tapies failed to purchase Full Tilt poker, but in addition to the signing of Mizrachi, the ISPT has also made several other moves that point to the ISPT becoming a reality, including announcing a satellite tournament in Morocco, and locking-up Wembley Stadium from May 31 to June 6, 2013.
Mizrachi is one of the best known players in poker, especially after his 2010 WSOP where he won the $50k Poker Players Championship (which he won for a second time in 2012) and finished 5th in the WSOP Main Event. Mizrachi has a total of three WSOP bracelets and two WPT Championships under his belt, and is one of the winningest players in poker history having amassed an incredible $14 million in lifetime tournament winnings.
Mizrachi was the first person to mention his new deal with the ISPT, tweeting the following earlier this week: "I just want to announce I will be @ISPT_poker official ambassador. Will be one of the biggest tournaments ever held!"
There are still a lot of hurdles to clear before the ISPT becomes a reality, and the official start date has already postponed at least one time, but from the recent announcements it does seem like Laurent Tapie and Prosper Masquelier plan on moving forward with the idea even if they don't have Full Tilt Poker in their back pocket feeding players into the tournaments via online satellites.
You can find out more information on the ISPT and watch a quick promotional video by visiting the ISPT website at www.ispt.com