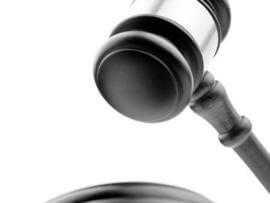 If Ray Bitar thought he was going to get a slap a wrist after turning himself to US authorities a few weeks ago, and do maybe a few months in jail, the sentence handed down to Absolute Poker owner and head of payment processing Brent Beckley (who oversaw the sites payment processing) may have Bitar and other Black Friday conspirators rethinking their assessment. On Monday Beckley was sentenced to 14 months in prison for his involvement at Absolute Poker after admitting to deceiving banks over the processing of gambling proceeds according to a Reuters article.
The now 32 year-old Beckley joined Absolute Poker in 2003, while in his mid-20s and soon thereafter took over the site's payment processing. After being taken into custody late last year for charges stemming from the indictments handed down on Black Friday (April 15, 2011) Beckley pleaded guilty to violating US Internet gambling laws as well as pleading guilty to a single charge of conspiracy to commit bank fraud and wire fraud.
Regarding Beckley's 14-month sentence (the longest handed down thus far in the Black Friday cases that have gone to trial) U.S. District Judge Lewis Kaplan said "the sentence has to make clear that the government of the United States means business in these types of cases." Prosecutors had recommended a 12-18-month sentence based on Beckley's cooperation after surrendering last year.
Last month Judge Kaplan sentenced former Sun First Bank President John Campos to three months in prison for his role with the online poker sites.
CalvinAyre.com is reporting that the sentence ended up on the lower side of the 12-18 month scale because there was "no evidence that Beckley intended to cause ultimate financial losses to banks, and no banks have identified for the Government actual losses attributable to Absolute Poker processing." For his part, Beckley simply told the court, "I fooled myself into thinking that what I was doing was OK,"
The 14-month sentence may seem like a slap on the wrist considering Beckley could have faced up to 30 years in prison for his crimes, but as one of the smaller players from the Black Friday indictments (AP founder Scott Tom is still at large), the 14-month sentence probably seems like an eternity to someone like Full Tilt Poker CEO Ray Bitar, considering Ray Bitar is one of the biggest fish in the entire Black Friday case it's likely that he will be facing at least what Brent Beckley received in terms of sentencing. Bitar surrendered a few weeks ago after refusing to surrender for over a year. He is now out on bail and staying at his California home.