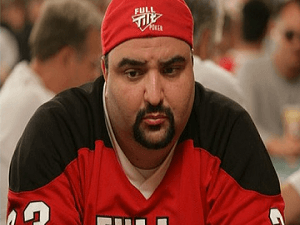 After surrendering to US authorities this past Monday, Ray Bitar, the embattled CEO of Full Tilt Poker, went before a judge in New York City where he plead not guilty to all charges leveled against him, and was granted bail, set at $250,000. However, the prosecution filed a motion to deny Bitar bail, and a second judge eventually decided that the bail amount will be raised to $2.4 million, with $1,000,000 due in cash.
The Government considered Bitar a flight risk, stating "there is no condition or combination of conditions that will reasonably assure the defendant's appearance in court," citing Bitar's attempts earlier this year to access a private bank account that contained over $24 million according to the government's argument and his unwillingness to turn himself in in the aftermath of Black Friday.
Despite bail being increased nearly 10-fold, from $250,000 to $2,400,000, the prosecution has decided to continue to fight, filing an appeal, and asking the court to deny bail of any kind to Bitar. Pending the appeal, Ray Bitar will remain in custody. In the Government's Memorandum for the Detention of Bitar (which you can view here) a case was outlined to show that Bitar was in fact a flight risk and therefore should not receive bail, staying in custody until put on trial:
• Bitar, a US citizen, had made several trips to the US during his time as Full Tilt Poker CEO, but these trips were halted in late 2010 after the government alleges Bitar received word that an indictment was in the works.
• After being indicted on April 15, 2011 Bitar, through his legal counsel at the time Richard Levitt, was in contact with US Department of Justice, who informed him consistently that to move forward he would have to turn himself in. Bitar chose to ignore these demands and remained in Ireland until this past Monday.
• Bitar remained in Ireland, remained in place as Full Tilt Poker CEO (despite attempts by shareholders to remove him from this position) and continued to run the company, stating that his role was too critical, and only he could broker a deal to save the floundering company.
• The government alleges that Bitar's true motive for staying in power at this time was to conceal that Full Tilt Poker was nothing more than a "Ponzi scheme" owing players over $350 million with a scant $60 million on hand according to an internal company memo. The government alleges that Bitar continued to run Full Tilt Poker by using new player deposits to pay older debts and withdrawal requests, all the while claiming player funds were safe and secure in segregated accounts.
• Among the most heinous charges is that Full Tilt Poker shareholders were paid over $400 million over the previous years while the company continued to build an unmanageable shortfall of player funds.
• Compounding this problem was Full Tilt poker's willingness to front player deposits, crediting player accounts without collecting the funds from the players' bank and credit cards. This practice allegedly led to a further $100-$150 million shortfall.
The government summarized their case against granting bail by citing the superseding indictment that was unsealed only after Bitar was taken into custody this past Monday. According to the memo the superseding indictment can be summed up in the following way:
"In summary, the Superseding Indictment alleges that Bitar, in an effort to convince customers to entrust their money to Full Tilt Poker, approved false and misleading statements about the safety of such deposits, including claims that player funds would be held in "segregated accounts" that were "separate and distinct" from company operating accounts, and that player funds would be transferred to company accounts only when the company was entitled to a particular fee from the players. In truth, player funds were freely intermingled with company funds in accounts which were used as Bitar directed, including funding marketing campaigns and paying Bitar and the company's other owners at least $430 million in distributions. As a result, Full Tilt Poker developed an increasing shortfall between what it owed players and what it had in its bank accounts. To help mask the company's financial problems, Bitar directed his finance department – which was required to certify monthly to the AGCC that Full Tilt Poker held 100%of player deposits as "cash" – to use a false and misleading definition of the term. Specifically, Bitar counted as company "cash " funds that were simply owed to Full Tilt Poker by third party payment processors and which had in many cases, as Bitar well knew, had been forfeited pursuant to judicial order or simply been stolen by the processor in question. It was these practices that left Full Tilt Poker unable to pay the $350 million it owed players when the company was shut down in 2011."