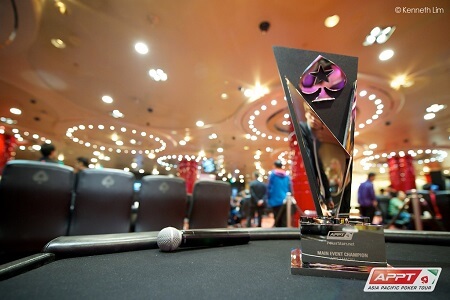 The 20015 Asia-Pacific Poker Tour (APPT) will be the first season to see the integration of GPI which is the Global Poker Index.  Players will be able to earn points for all of the Season 9 events and then the player with the most points at the end will receive a specially made trophy.
APPT President Danny McDonagh had the following to say about the GPI integration:
It's the ideal time to integrate a ranking system for all of the Asia Pacific. The key has always been to have a balance in buy-ins, player fields, prize money, and number of events between Asia and Australia-New Zealand. The tour has that balance now and it's another feature to add to the ultimate player experience.
Alex Dreyfus, GPI President went on to say the following:
We are excited that APPT is going to use the Global Poker Index ranking system.  It will help to increase our reach and brand awareness in Asia. Working with the largest Asian poker initiative will definitively drive new opportunities for us and will help to build a worldwide industry standard. It will support our vision of promoting poker like a sport, globally.
APPT SEASON 9 SCHEDULE
Here are the currntly confirmed events for Season 9 of the APPT.  More events may be added at a later date.
2015 Aussie Millions Poker Championship:

January 14 – February 2, 2015

ANZPT Perth:

February 5-15, 2015

Macau Poker Cup 22*:

February 27 – March 15, 2015

ANZPT Sydney:

March 11-23, 2015

APPT Seoul:

April 7-12, 2015

APPT Macau*:

May 13-24, 2015

APPT Manila:

July 31 – August 9, 2015

Macau Poker Cup 23*:

August 28 – September 13, 2015

ANZPT Melbourne:

October 8-20, 2015

2015 Asia Championship of Poker*:

October 30 – November 15, 2015

(Date TBC)
*Tournaments are subject to regulatory approval