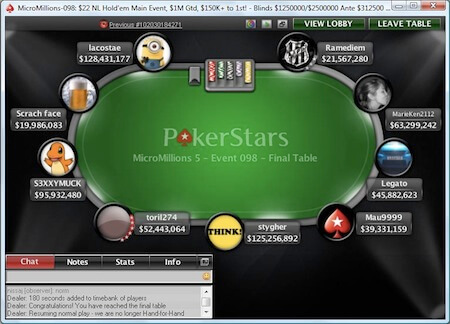 PokerStars announced today that the popular MicroMillions online poker series is set to return to the virtual felt November 14th.
The MicroMillions will run a total of 100 events with a total of $5,000,000 in guaranteed prizes and is set to end on November 24th.
The buy-ins for the series runs from just $0.11 to $22 which makes this one of the most accessible tournament series for new players.
Team PokerStars Pro and two-time MicroMillions Player of the Series, Marcin 'Goral' Horecki had the following to say about the series.
MicroMillions is a lot of fun and offers great value. For low stakes players, it's a chance to win big money at little cost, while for higher stakes players the added Tournament Leader Board prizes make it a worthwhile proposition.
MicroMillions 6 Tournament Schedule
| Event # | Buy-in | Name | Date | Time | Guarantee |
| --- | --- | --- | --- | --- | --- |
| 1 | $0.11 |  MicroMillions-001: $0.11+R NL Hold'em [Hyper-Active, $15K Gtd] | Nov 14 | 12:00 | $15,000 |
| 2 | $1.00 |  MicroMillions-002: $1+R NL Hold'em [3x-Turbo, $150K Gtd] | Nov 14 | 13:00 | $150,000 |
| 3 | $3.30 |  MicroMillions-003: $3.30 NL Hold'em [6-Max, $50K Gtd] | Nov 14 | 14:00 | $50,000 |
| 4 | $5.50 |  MicroMillions-004: $5.50 NL Hold'em [Zoom, Turbo, $75K Gtd] | Nov 14 | 16:00 | $75,000 |
| 5 | $3.30 |  MicroMillions-005: $3.30 NL Hold'em [$25K Gtd] | Nov 14 | 18:30 | $25,000 |
| 6 | $2.20 |  MicroMillions-006: $2.20+R NL Hold'em [2x-Turbo, $30K Gtd] | Nov 14 | 22:00 | $30,000 |
| 7 | $5.50 |  MicroMillions-007: $5.50 NL Hold'em [$20K Gtd] | Nov 15 | 02:00 | $20,000 |
| 8 | $4.40 |  MicroMillions-008: $4.40 NL Hold'em [2x Chance, $25K Gtd] | Nov 15 | 04:00 | $25,000 |
| 9 | $8.80 |  MicroMillions-009: $8.80 PL Omaha [$20K Gtd] | Nov 15 | 06:00 | $20,000 |
| 10 | $1.00 |  MicroMillions-010: $1+R NL Hold'em [3x-Turbo, $50K Gtd] | Nov 15 | 08:30 | $50,000 |
| 11 | $11.00 |  MicroMillions-011: $11 NL Hold'em [6-Max, $75K Gtd] | Nov 15 | 11:30 | $75,000 |
| 12 | $3.30 |  MicroMillions-012: $3.30 NL Hold'em [Big Antes, $40K Gtd] | Nov 15 | 13:00 | $40,000 |
| 13 | $3.30 |  MicroMillions-013: $3.30 Stud [$10K Gtd] | Nov 15 | 15:30 | $10,000 |
| 14 | $3.30 |  MicroMillions-014: $3.30+R NL Hold'em [$50K Gtd] | Nov 15 | 18:30 | $50,000 |
| 15 | $5.50 |  MicroMillions-015: $5.50 FL Hold'em [Turbo, $5K Gtd] | Nov 15 | 22:00 | $ 5,000 |
| 16 | $2.20 |  MicroMillions-016: $2.20 NL Hold'em [$10K Gtd] | Nov 16 | 02:00 | $10,000 |
| 17 | $3.30 |  MicroMillions-017: $3.30 PL Badugi [$5K Gtd] | Nov 16 | 04:00 | $ 5,000 |
| 18 | $3.30 |  MicroMillions-018: $3.30 NL Hold'em [Turbo, $20K Gtd] | Nov 16 | 06:00 | $20,000 |
| 19 | $4.40 |  MicroMillions-019: $4.40 NL Hold'em [4-Max, $30K Gtd] | Nov 16 | 08:30 | $30,000 |
| 20 | $2.22 |  MicroMillions-020: $2.22+R NL Hold'em [3x-Turbo, Saturday Splash Special Edition, $150K Gtd] | Nov 16 | 11:00 | $150,000 |
| 21 | $3.30 |  MicroMillions-021: $3.30 PL Omaha [6-Max, Turbo, $15K Gtd] | Nov 16 | 11:30 | $15,000 |
| 22 | $8.80 |  MicroMillions-022: $11 NL Hold'em [Progressive, SuperKnockout, $100K Gtd] | Nov 16 | 13:00 | $100,000 |
| 23 | $1.00 |  MicroMillions-023: $1+R NL Hold'em [3x-Turbo, $125K Gtd] | Nov 16 | 15:30 | $125,000 |
| 24 | $2.20 |  MicroMillions-024: $2.20 NL Hold'em [$15K Gtd] | Nov 16 | 18:30 | $15,000 |
| 25 | $3.30 |  MicroMillions-025: $3.30 NL Hold'em [Ante Up, $10K Gtd] | Nov 16 | 22:00 | $10,000 |
| 26 | $2.20 |  MicroMillions-026: $2.20+R NL Hold'em [6-Max, 2R1A, $25K Gtd] | Nov 17 | 02:00 | $25,000 |
| 27 | $1.00 |  MicroMillions-027: $1+R NL Hold'em [3x-Turbo, Sunday Spark Special Edition, $50K Gtd] | Nov 17 | 04:00 | $50,000 |
| 28 | $5.50 |  MicroMillions-028: $5.50 NL Hold'em [6-Max, $40K Gtd] | Nov 17 | 06:00 | $40,000 |
| 29 | $3.30 |  MicroMillions-029: $3.30 NL Hold'em [Zoom, Turbo, $40K Gtd] | Nov 17 | 08:30 | $40,000 |
| 30 | $3.30 |  MicroMillions-030: $3.30 NL Hold'em [Heads-Up, Turbo, $25K Gtd, No Late Reg] | Nov 17 | 11:30 | $25,000 |
| 31 | $3.30 |  MicroMillions-031: $3.30 Stud Hi/Lo [$10K Gtd] | Nov 17 | 13:00 | $10,000 |
| 32 | $11.00 |  MicroMillions-032: $11 NL Hold'em [Sunday Storm Special Edition, $300K Gtd] | Nov 17 | 13:30 | $300,000 |
| 33 | $2.20 |  MicroMillions-033: $2.20+R NL Hold'em [2x-Turbo, $75K Gtd] | Nov 17 | 15:30 | $75,000 |
| 34 | $5.50 |  MicroMillions-034: $5.50 NL Hold'em [6-Max, Turbo, Shootout, $20K Gtd, No Late Reg] | Nov 17 | 18:30 | $20,000 |
| 35 | $5.50 |  MicroMillions-035: $5.50+R NL Hold'em [1R1A, $30K Gtd] | Nov 17 | 22:00 | $30,000 |
| 36 | $11.00 |  MicroMillions-036: $11 NL Hold'em [$25K Gtd] | Nov 18 | 02:00 | $25,000 |
| 37 | $3.30 |  MicroMillions-037: $3.30+R PL Omaha [6-Max, 2R1A, $10K Gtd] | Nov 18 | 04:00 | $10,000 |
| 38 | $5.50 |  MicroMillions-038: $5.50 NL Hold'em [$25K Gtd] | Nov 18 | 06:00 | $25,000 |
| 39 | $3.30 |  MicroMillions-039: $3.30 8-Game [$5K Gtd] | Nov 18 | 08:30 | $ 5,000 |
| 40 | $5.50 |  MicroMillions-040: $5.50 NL Hold'em [6-Max, Turbo, Knockout, $40K Gtd] | Nov 18 | 11:30 | $40,000 |
| 41 | $1.00 |  MicroMillions-041: $1+R NL Hold'em [3x-Turbo, $100K Gtd] | Nov 18 | 13:00 | $100,000 |
| 42 | $5.50 |  MicroMillions-042: $5.50 NL Hold'em [$50K Gtd] | Nov 18 | 15:30 | $50,000 |
| 43 | $3.30 |  MicroMillions-043: $3.30 NL Hold'em [6-Max, $25K Gtd] | Nov 18 | 18:30 | $25,000 |
| 44 | $11.00 |  MicroMillions-044: $11 NL Hold'em [$25K Gtd] | Nov 18 | 22:00 | $25,000 |
| 45 | $3.30 |  MicroMillions-045: $3.30 PNL Hold'em [The Big Game Format, $5K Gtd] | Nov 19 | 02:00 | $ 5,000 |
| 46 | $11.00 |  MicroMillions-046: $11 NL Hold'em [6-Max, SuperKnockout, $25K Gtd] | Nov 19 | 04:00 | $25,000 |
| 47 | $1.00 |  MicroMillions-047: $1+R NL Hold'em [3x-Turbo, $50K Gtd] | Nov 19 | 06:00 | $50,000 |
| 48 | $3.30 |  MicroMillions-048: $3.30 PL Omaha Hi/Lo [$10K Gtd] | Nov 19 | 08:30 | $10,000 |
| 49 | $8.80 |  MicroMillions-049: $8.80 HORSE [$15K Gtd] | Nov 19 | 11:30 | $15,000 |
| 50 | $4.40 |  MicroMillions-050: $4.40 NL Hold'em [4-Max, 4x Chance, $100K Gtd] | Nov 19 | 13:00 | $100,000 |
| 51 | $2.20 |  MicroMillions-051: $2.20+R NL Hold'em [Ante Up, 2x-Turbo, $50K Gtd] | Nov 19 | 15:30 | $50,000 |
| 52 | $5.50 |  MicroMillions-052: $5.50 NL Hold'em [$30K Gtd] | Nov 19 | 18:30 | $30,000 |
| 53 | $3.30 |  MicroMillions-053: $3.30 NL Hold'em [6-Max, Ante Up, $10K Gtd] | Nov 19 | 22:00 | $10,000 |
| 54 | $5.50 |  MicroMillions-054: $5.50 NL Hold'em [$20K Gtd] | Nov 20 | 02:00 | $20,000 |
| 55 | $2.20 |  MicroMillions-055: $2.20 NL Hold'em [$10K Gtd] | Nov 20 | 04:00 | $10,000 |
| 56 | $5.50 |  MicroMillions-056: $5.50 NL Draw [$5K Gtd] | Nov 20 | 06:00 | $ 5,000 |
| 57 | $8.80 |  MicroMillions-057: $8.80 NL Hold'em [8-Max, Shootout, Turbo, SuperKnockout, $20K Gtd] | Nov 20 | 08:30 | $20,000 |
| 58 | $2.20 |  MicroMillions-058: $2.20+R NL Hold'em [Big Antes, 2x-Turbo, $75K Gtd] | Nov 20 | 11:30 | $75,000 |
| 59 | $3.30 |  MicroMillions-059: $3.30 FL Omaha Hi/Lo [$5K Gtd] | Nov 20 | 13:00 | $ 5,000 |
| 60 | $1.00 |  MicroMillions-060: $1+R NL Hold'em [3x-Turbo, $75K Gtd] | Nov 20 | 15:30 | $75,000 |
| 61 | $8.80 |  MicroMillions-061: $8.80 NL Hold'em [$50K Gtd] | Nov 20 | 18:30 | $50,000 |
| 62 | $4.40 |  MicroMillions-062: $4.40+R PL Omaha [6-Max, $10K Gtd] | Nov 20 | 22:00 | $10,000 |
| 63 | $5.50 |  MicroMillions-063: $5.50 NL Hold'em [$15K Gtd] | Nov 21 | 02:00 | $15,000 |
| 64 | $3.30 |  MicroMillions-064: $3.30 NL Hold'em [$15K Gtd] | Nov 21 | 04:00 | $15,000 |
| 65 | $4.40 |  MicroMillions-065: $4.40 NL Hold'em [6-Max, $20K Gtd] | Nov 21 | 06:00 | $20,000 |
| 66 | $2.20 |  MicroMillions-066: $2.20 NL Hold'em [$10K Gtd] | Nov 21 | 08:30 | $10,000 |
| 67 | $1.00 |  MicroMillions-067: $1+R NL Hold'em [3x-Turbo, $75K Gtd] | Nov 21 | 11:30 | $75,000 |
| 68 | $3.30 |  MicroMillions-068: $3.30 PL 5-Card Omaha [6-Max, $5K Gtd] | Nov 21 | 13:00 | $ 5,000 |
| 69 | $3.30 |  MicroMillions-069: $3.30 NL Single Draw 2-7 [$5K Gtd] | Nov 21 | 15:30 | $ 5,000 |
| 70 | $5.50 |  MicroMillions-070: $5.50 NL Hold'em [$30K Gtd] | Nov 21 | 18:30 | $30,000 |
| 71 | $11.00 |  MicroMillions-071: $11 NL Hold'em [Turbo, SuperKnockout, $20K Gtd] | Nov 21 | 22:00 | $20,000 |
| 72 | $1.00 |  MicroMillions-072: $1+R NL Hold'em [3x-Turbo, $30K Gtd] | Nov 22 | 02:00 | $30,000 |
| 73 | $3.30 |  MicroMillions-073: $3.30 NL Hold'em [$15K Gtd] | Nov 22 | 04:00 | $15,000 |
| 74 | $8.80 |  MicroMillions-074: $8.80 NL Hold'em [4-Max, SuperKnockout, $15K Gtd] | Nov 22 | 06:00 | $30,000 |
| 75 | $5.50 |  MicroMillions-075: $5.50 NL Hold'em [6-Max, Big Antes, $25K Gtd] | Nov 22 | 08:30 | $25,000 |
| 76 | $2.20 |  MicroMillions-076: $2.20 NL Hold'em [$20K Gtd] | Nov 22 | 11:30 | $20,000 |
| 77 | $2.20 |  MicroMillions-077: $2.20+R NL Omaha [6-Max, 3x-Turbo, $40K Gtd] | Nov 22 | 13:00 | $40,000 |
| 78 | $5.50 |  MicroMillions-078: $5.50 NL Hold'em [6-Max, 2x Chance, $75K Gtd] | Nov 22 | 15:30 | $75,000 |
| 79 | $3.30 |  MicroMillions-079: $3.30 PL Courcheval [$5K Gtd] | Nov 22 | 18:30 | $ 5,000 |
| 80 | $5.50 |  MicroMillions-080: $5.50 NL Hold'em [$20K Gtd] | Nov 22 | 22:00 | $20,000 |
| 81 | $5.50 |  MicroMillions-081: $5.50 PL Omaha [6-Max, $5K Gtd] | Nov 23 | 02:00 | $ 5,000 |
| 82 | $2.20 |  MicroMillions-082: $2.20 NL Hold'em [$10K Gtd] | Nov 23 | 04:00 | $10,000 |
| 83 | $4.40 |  MicroMillions-083: $4.40+R NL Hold'em [1R1A, $50K Gtd] | Nov 23 | 06:00 | $50,000 |
| 84 | $8.80 |  MicroMillions-084: $8.80 NL Hold'em [$50K Gtd] | Nov 23 | 08:30 | $50,000 |
| 85 | $2.22 |  MicroMillions-085: $2.22+R NL Hold'em [3x-Turbo, Saturday Splash Special Edition, $150K Gtd] | Nov 23 | 11:00 | $150,000 |
| 86 | $1.00 |  MicroMillions-086: $1 NL Hold'em [$15K Gtd] | Nov 23 | 11:30 | $15,000 |
| 87 | $3.30 |  MicroMillions-087: $3.30 FL Hold'em [6-Max, Turbo, $10K Gtd] | Nov 23 | 13:00 | $10,000 |
| 88 | $4.40 |  MicroMillions-088: $4.40+R NL Hold'em [6-Max, Action Hour, $60K Gtd] | Nov 23 | 15:30 | $60,000 |
| 89 | $5.50 |  MicroMillions-089: $5.50 NL 5-Card Omaha Hi/Lo [$10K Gtd] | Nov 23 | 18:30 | $10,000 |
| 90 | $1.00 |  MicroMillions-090: $1+R NL Hold'em [3x-Turbo, $30K Gtd] | Nov 23 | 22:00 | $30,000 |
| 91 | $5.50 |  MicroMillions-091: $5.50 Razz [$5K Gtd] | Nov 24 | 02:00 | $ 5,000 |
| 92 | $1.00 |  MicroMillions-092: $1+R NL Hold'em [3x-Turbo, Sunday Spark Special Edition, $50K Gtd] | Nov 24 | 04:00 | $50,000 |
| 93 | $2.20 |  MicroMillions-093: $2.20 NL Hold'em [$15K Gtd] | Nov 24 | 06:00 | $15,000 |
| 94 | $5.50 |  MicroMillions-094: $5.50+R NL Hold'em [1R1A, $75K Gtd] | Nov 24 | 08:30 | $75,000 |
| 95 | $2.22 |  MicroMillions-095: $2.22 NL Hold'em [Heads-Up, Hyper-Turbo, $20K Gtd, No Late Reg] | Nov 24 | 11:30 | $20,000 |
| 96 | $3.30 |  MicroMillions-096: $3.30+R NL Courcheval Hi/Lo [6-Max, 3x-Turbo, $25K Gtd] | Nov 24 | 13:00 | $25,000 |
| 97 | $11.00 |  MicroMillions-097: $11 NL Hold'em [Sunday Storm Special Edition, $300K Gtd] | Nov 24 | 13:30 | $300,000 |
| 98 | $22.00 |  MicroMillions-098: $22 NL Hold'em Main Event [$1M Gtd, $150K+ to first place]] | Nov 24 | 14:30 | $1,000,000 |
| 99 | $3.30 |  MicroMillions-099: $3.30 NL Hold'em [Turbo, $30K Gtd] | Nov 24 | 17:30 | $30,000 |
| 100 | $1.00 |  MicroMillions-100: $1+R NL Hold'em [Hyper-Turbo, $30K Gtd] | Nov 24 | 21:00 | $30,000 |