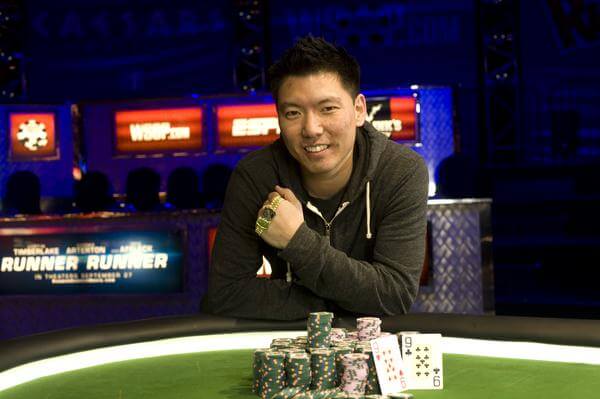 It was a busy day at the Rio in Las Vegas yesterday, as three bracelets were up for grabs in Events #6, #7 and #8. It took all night to finish the action on the three final tables. Now that the action is complete let's take a look at what players won a bracelet.
Event #6 at the 2013 World Series of Poker was the $1500 NL Holdem "Millionaire Maker" tournament. This was a new bracelet event this year. A record 6343 players entered Event #6, which is more than any other non-main event in WSOP history.
Benny Chen started the final table with the biggest chip stack, but it was a long journey to win his 1st WSOP bracelet. To start the final table Dan Kelly was in 2nd place, but after knocking out Joe Kuether and Theron Eichenberger he took over the lead.
The next three players to be eliminated were Upeshka Desilva, Chris Hunichen and Dan Kelly. Chen hadn't knocked anyone out on the final table when four-handed play started, but he quickly knocked out Justin Liberto and Jonathan Gray.
When heads-up play started Chen had a commanding 3/1 chip lead over Michael Bennington. It only took eight hands of HU play for Chen to eliminate Bennington. Chen went all-in with 9/9 and Bennington called with 3/3, which he was unable to improve.
Event #6 $1500 Millionaire Maker NL Holdem Results
• Benny Chen $1,198,780
• Michael Bennington $741,903
• Jonathan Gray $534,506
• Justin Liberto $400,408
• Dan Kelly $302,104
• Chris Hunichen $229,575
• Upeshka Desilva $175,714
• Robert McVeigh $135,467
• Theron Eichenberger $105,154
Event #7 $1000 NL Holdem Results
Event #7 is in the books and Matt Waxman just won an epic heads-up battle against Eric Baldwin to win his 1st WSOP bracelet. It took seven hours for the two players to determine the winner of Event #7 with multiple lead changes during the action.
Baldwin who was looking to win his 2nd career WSOP bracelet fell just short after a gruelling final table. Baldwin shipped his last 1.025M chips in on the button preflop with 7/4 off suit and was called quickly by Waxman who had A/5 off suit.
An ace was the 1st card turned over on the flop and Baldwin was unable to improve his hand. Waxman won the hand and he will earn a little over $300K for his efforts. Check out the full results from the final table below.
• Matt Waxman $305,952
• Eric Baldwin $189,200
• Jess Dioquino $130,825
• Amit Makhija $94,353
• Brent Hanks $68,975
• Jacob Jung $51,086
• Robert Dreyfuss $38,340
• Tuu Ho $29,147
• Jason Koon $22,435
• Scott Yelton $17,491
Event #8 $2500 8-Game Mix Results
In Event #8 a total of 19 players remained on the final day of the tournament. The $2500 8-Game Mix final table was exciting and the heads-up battle turned into an all night marathon. Michael Malm ended up beating Steven Wolansky to win the bracelet.
Malm wasn't even going to play in this event, but the event he wanted to play in had already closed registration. He decided to give the 8-Game Mix tournament a shot and 3-days later he has nearly a quarter million in cash and a WSOP bracelet.
• Michael Malm $225,104
• Steven Wolansky $139,034
• Greg Mueller $89,673
• Eric Crain $64,975
• Michael Hurey $47,771
• Dario Alioto $35,634
• Mike Wattel $26,966
• Marco Johnson $20,699