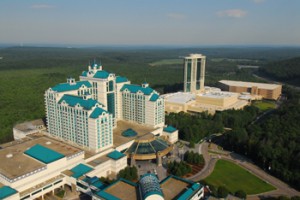 The competition for one of the three available brick & mortar casino licenses in Massachusetts is heating up, and Foxwoods Casino from Connecticut is right in the thick of it, as they start to reveal plans for their proposed resort-style casino in the somewhat sleepy suburb of Milford, Massachusetts. Full disclosure, I live in the area.
With a town hearing scheduled for June 3rd, Foxwoods has also taken the step of opening an office in the downtown area of Milford, as well as sending out mass-mailings to all Milford residents explaining not only their plans for the site, but also answering several of the more frequent criticisms being leveled by opponents of a casino in Milford, which calls itself Casino-Free Milford.
In their open-letter to Milford residents Foxwoods gave generic details about the proposed casino:
• Direct access via a new I-495/Route 16 interchange
• Two 350-room luxury hotels
• 200,000 square feet of gaming –5,450 slots and 240 table games
• 10 restaurants and lounges
• 40,000 square feet of luxury retail space
Foxwoods letter goes on to indicate that the casino would also bring 2,500 construction jobs to the area, as well as up to 4,000 permanent full and part-time jobs when construction was complete and the casino opened. Foxwoods also claims that they will be purchasing some $50 million in goods from local vendors every year.
The open letter also asks residents to "keep an open mind" and wait until the proposal is given on June 3rd in front of the Milford Board of Selectman:
"We are aware that many of you have concerns about potential impacts, including traffic, public safety, and infrastructure such as water and sewer, and want to assure you that we are hard at work gathering information to address those concerns at our meeting with the Board of Selectmen scheduled for June 3rd.
"We understand that we have an obligation to provide the citizens of Milford and the surrounding communities with information that will allow you to make an informed decision, and we take that obligation very seriously.
"We respectfully ask that you keep an open mind as we prepare for our June 3rd meeting with the selectmen. Please stop by our local office on Main Street or visit our web site FoxwoodsMA.com to learn more about our project"
The Foxwoods Casino project is seen as a bit of a long-shot for the Boston area casino license, where it is pitted against two other proposed locations: Suffolk Downs, a racetrack just outside the Boston city limits where a race-track already exists which is being proposed by Caesars Entertainment, and the Mystic River proposal in Everett, MA that casino mogul Steve Wynn has proposed for the Boston area casino.